If your bio is not here (and you'd like it to be), send it to our webmaster.
---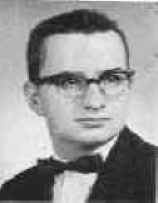 Frank Eaves

Frank's Obituary
So many years have gone by and too many of our classmates have passed on. I have never attended a reunion and thought after 40 years it is time to say "Hello." Thanks, Bob, for the website. It has been a pleasure to read of the lives of our classmates.

While an undergraduate at the UW Madison, I married my bride of 37 years. After graduation I entered the Paper industry and remained there until retirement in 1998. We lived in Alabama, Maine, New York, Michigan and Chicago before landing back in Madison in 1971. We have three married children and four grandchildren. During my years in business I maintained my interest in history, politics and travel. Ann and I always keep a suitcase packed. In retirement I am an active volunteer at the State Historical Museum and the Veteran's Museum and am currently an officer in a Madison based Learning in Retirement Organization (LIR). I give tours at the museums and attend and give classes at the LIR. In some ways I feel that Mrs. McCarty and Mr. Quant are still grading my work!

I hope to see many of you at the reunion.
---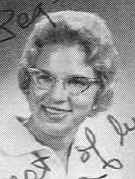 Pat Eberle-Pertzborn
Email: pip9042@msn.com

See more photos of Pat's family



I am an Educational Assistant at Wisconsin Heights Middle School in the library. Have worked with the school system for nineteen years. (Fourteen of those being at the high school) It has been fun to go to school with my 4 daughters when they were in High School and now I am at the middle school and have grandchildren there. My husband, Eddie, is a retired farmer. My dream was to have a farm and care for animals and my dream came true. He is retired and has a big shop to keep him busy. We live in a valley called DunLap Hollow just out side of Roxbury which is near Sauk City, Mazomanie, and Black Earth. Our girls and their families live close by. We have 8 grandchildren and a wedding approaching for our 3rd. daughter in August. I am not planning to come to the reunion but want to thank everyone who has taken the time to put things together. I love the web site so I can catch up with all of my classmates.
---
Rob Engelke
Email: rob.engelke@ultratec.com
Great to see all of the stories and find out what "really" happened to friends and classmates for the past 40 years! Looks like just about everyone's had a great time, although I am terribly sorry to see the names of those that have already slipped away (glad to know that Mary Wright is insisting she HAS NOT YET slipped away – way to go Mary – please keep it that way). And thanks for the great website, Bob! A lot of WORK and we appreciate it!

After getting my degree from UW Madison in Electrical Engineering, I married my wife, Sue, and for 10 years, we both worked at the University. I worked for several departments including the Space Astronomy Lab (worked on "space capsules" as they were known in those days), and later with the TRACE Center which is a rehabilitation engineering center that designs assistive communication devices for persons with severe, multiple communicative disorders (kids with CP and retardation and deaf-blind people for example). While there, I became interested in ways that deaf people could use the telephone and after several years working in the area, started a little company in my basement to make "TDDs" (basically small typewriter-like devices that deaf people use to communicate over the phone by "typing" to each other). Now, after 25 years, the Sue and I are still with the company (Ultratec.com) which has grown quite a bit and is located in the University of Wisconsin Research Park where we make, among other things, TDSusie and I have two sons, Christopher (after spending a year as a student and teacher in Katmandu Nepal, is currently finishing up his Anthropology degree at Arizona and then off to grad school), and Timothy (currently a junior at UW Madison in Political Science). All happy, and doing fine!

Looking forward to seeing everyone at the reunion!
-Rob
---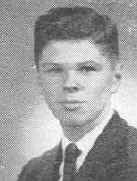 Ron Fagerstrom
Email: ronkf@sbcglobal.net
Occupation: In between

Spouse: Linda Thomson

Children: Mindy (27) Aaron (24)

I've been a city planner, a social worker, and lead a civil rights group in Louisville Ky. I spent 25 years as a manufacturer's rep selling auto parts ' not a good use of me, but the pay was pretty good. I raised two wonderful kids, an artist and an environmentalist. I now live in a 110 year old neighborhood near St. Louis Union Station with my dear second wife, Linda, who is a social worker and loves to garden. I am now a commercial realtor, but hope to soon work in a black neighborhood helping people plan for authentic renewal of their area. I am a recovering alcoholic. I self published a book on a vibrant St. Louis black neighborhood that was destroyed by urban renewal in 1959.
---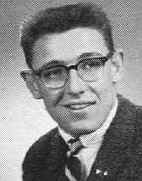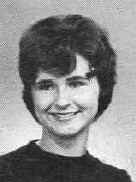 Ralph Farmer and Libby Barnard
Email: landrfarmer@charter.net

Ralph and Libby's beautiful family and
pictures from the 1993 West High Reunion
Ralph and I have been married for 38 years, with two great kids, Erik (30) and Molly (22). All four of us graduated from UW-Madison, and Erik and Molly are both engaged to UW-Madison grads……. truly a Badger Family!' Molly and Mike live in Madison, and Beth and Erik live in Shorewood. '

As we've all noticed, the years have flown by since our days on Regent Street. After graduation Ralph played football for the Badgers (also a year professionally) and I taught school for 8 years. Most of Ralph's professional life has been spent 'in the printing industry. After teaching I took up the job of a professional (ie unpaid) volunteer in our church, schools, and community.

Over the years we've done a lot of traveling, and now enjoy going up North to our cottage in Hazelhurst. We've lived in Shorewood , a North Shore suburb of Milwaukee, for 27 years, and love the people and area … in fact it reminds us of Madison, a wonderful city full of childhood and college memories. We look forward to seeing all of you in August.. Thanks to the committee for all their hard work.
---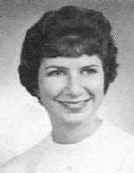 Nancy Faulhaber-Schmelzer
Email: Tnschmlzer@aol.com
My past 40 years have been rewarding. I have been married to Tom (class of '60) for 38 years, have 2 children, Jim 35 yrs and Lori 33 yrs, and 4 grandchildren, Rachel 9, Tommy 6, Nicholas 2 and Amanda 1. We raised our family in Middleton and later moved to our cottage on Lake Wisconsin. We currently live in The Villages, FL and enjoy the retirement life, tho living in The Villages is anything but a slow down. With over 200 clubs and activities, 5 championship golf courses, 10 executive courses, tennis, bocce, shuffle board and 9 pools, we are staying very active (golf is on the top of the list).

We are sorry to miss another reunion. We will once again be on the road this summer in our RV, traveling for 2 months to the west coast with friends. Have a great party.
---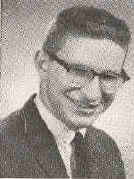 Mike Fellman
Email: fellman@sfu.ca

Just back from Hong Kong, where I met my first grand child, Sara, born January 15 and named in honor of my mother, who died in 1994. My elder son, Joshua, married Mei-Ning Chang from Taiwan a couple of years ago.

He is an editor with Bloomberg Financial News Services. My younger son, Eli, a beginning lawyer in Ottawa, will marry Liz Scanlon on August 5. I have now been married a second time– a blissfully happy thirteen years– to Santa Aloi, a choreographer and Professor of Dance at Simon Fraser University in Vancouver, where I have taught American History since 1969.

My most recent book is The Making of Robert E. Lee, published by Random House last November. My job gets me around the world some–this summer to France and Germany (which is the reason I will not be attending
this reunion). And I am currently Director of Simon Fraser's Graduate Liberal Arts program, an interdisciplinary, evening, part-time program for folks like some of you who want an intensive intellectual experience without the
hyper-specialization of traditional graduate work.

I still get back to Madison, mainly to visit my almost 94 year old Dad, who lives in Oakwood Village. And I have some lovely cousins, the Silverbergs, who it is fun to visit. I try to time my Fall visit for a UW football game–still
enjoy the hoopla.

Hope you have a great reunion.

As ever,
Mike
---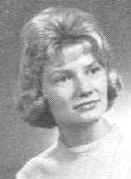 Christine Fleischer Flagler
Email: ceflagler@earthlink.net
I am now a family and individual therapist, and I specialize in families who have adopted children and adopted individuals who want therapy or help with birth-parent issues. I was married for 35 years and as of last fall, I am divorced. I have 4 wonderful children, 3 of them married, and 3 little grandsons. I am enjoying traveling and have no plans to retire! I would like to get in touch with other classmates who are single and who may have a similar life scenario…. grieving the loss of a long marriage is the pits, but I am moving on, slowly but surely.
---
Barb Freas-Booher
Barb's Obituary
Occupation: Retired

Children: Joel Wonicker-Cook (32) Stacy Schaefer (30) Kristin Krebsbach (28)

Grandchildren: Lauren Wonicker-Cook (2) (has a sister due in Nov.) Maricel Schaefer (8 ') John Schaefer (2 mos) Emily Krebsbach (3 ') Tyler Krebsbach (3 ' mos)

After graduation, I attended UW-Whitewater and received a Bachelor of Education degree in 1965. I got married that summer and moved to Janesville where I taught for 2 years and started their Head Start program. We moved to San Antonio, where I taught for a federally funded pre-school ' it was shear panic when I found out none of the students spoke any English! I moved back to WI in 1968 and taught in Janesville and Sheboygan. After Vietnam, my spouse took a position at Kohler Co and we were transferred to PA where we lived for several years. We were transferred back in 72 and had our 3rd child. After several years off from teaching, I substitute taught for several years and got divorced. Then worked as a Director of Volunteer Service at the Sheboygan County Comprehensive Health Center, a county run psychiatric facility. I then attained my certification as an Activity Director. After 14 ' years, I retired, got remarried to a wonderful man and moved to VA. to a beautiful home with a magnificent view on top of a mountain . I started taking continuing ed courses at a local 2 year college and was inducted into the Phi Theta Kappa Honor Society. I'd planned to open a consulting business for activity programs in the nursing home industry. I had to give the idea up after injuries and severe chronic pain suffered in 2 motor vehicle accidents. I'm really bad at letter writing, but would love to hear from any of you.
---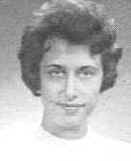 Janet Friedl Misener
Email: wjmize@g2a.net
Occupation: Educational Assistant

Spouse: Wayne

Children: Denese Mace (35) Christopher Misener (32) Becky Blue (29)

Grandchildren: Connor Mace (4) Delaney Mace (9mos) Bailey Hinderman (6)

40 years already. That was fast. Where did the years go? Wayne and I have been married for 36 years and working on 36 more. Wayne has been retired for 7 years from the WI State Patrol. It's not fair. He's home doing landscaping as a hobby and I'm still plugging away at the Jr. High. Hopefully, since all our big expenses (weddings) are now paid, I will be able to retire in February. I'll try to make our 50th. See you then.
---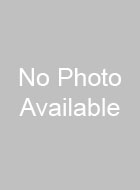 James C. Foster
Email: jfoster@mtmc.edu
As several of you, I can be found in Who's Who in America from 1990 onward. I have been in the academic administration (Academic VP) business for the last 15 years. Several of you may remember my radical cants from Wisconsin Public Radio in the early 80s. I am in the process of moving (one of the great disadvantages of being an academic vice president who is, as my references note, a "change agent") so I will probably not be in Wisconsin in August.
Best to all of you — particularly to Madison Corps folks

To Larry Ozanne — If your father is still alive, please give him my best. I really enjoyed working with him!
---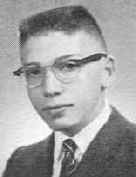 Jim Frank
Email: jamesfrank@gmail.com
Hi.

It's fun reading the mini-bios that my classmates have written. If you guys could do it, so can I. Here goes.

From West, I went to UW-Madison, then U of Illinois where I got a Ph.D. in Physics, and met and married my soul-mate Phyllis (the latter accomplishment much more important.) In 1972, we moved to the mountains of northern New Mexico, where I worked at the Los Alamos National Lab doing basic research in elementary particle physics. (I love expensive toys!).
We decided to take a one-year sabbatical to Long Island, New York in 1985 so I could work at Brookhaven National Lab. Phyllis and I and our kids enjoyed the change, and here we remain, where I do research whenever I can (budgets and administration often interfere), and Phyllis does Speech and Language pathology with the preschool population.

We have 5 neat kids: two of our four daughters (Deena- nursing and Marilyn- nutrition) are married to Rabbis (one practicing, and the other 'in-training'), and we love our new station as grandparents (actually Bubbie and Zaide ) to three little ladies; our son, David, is doing research in a more applied direction than his father (geology); another daughter, Miriam, is readying to go to med-school; and our youngest, Naomi, just celebrated her bat-mitzvah this June, and keeps us young and nutty.

The past 40 have been interesting and fun. Hope we will be able to say the same about the next 40! Maybe I'll actually feel like an adult by then.
---