Sheila Nygaard (From her son, Perry Armstrong III)

Hello, my name is Perry Armstrong III(Sheila's son). I'm sending you this picture for the upcoming reunion. My Mom doesn't have an e-mail address. She is currently retired and living in Madison.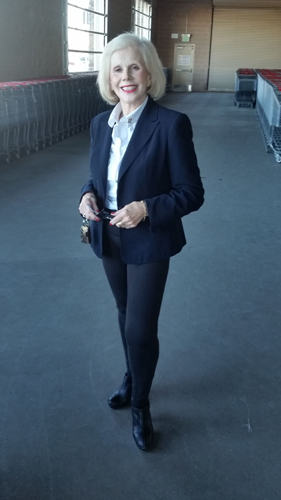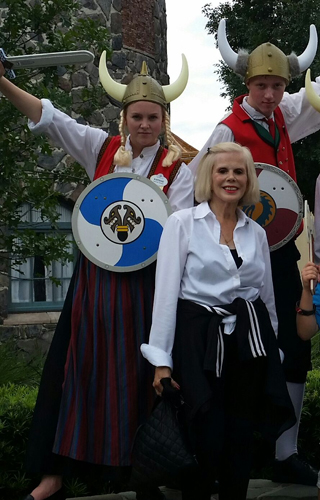 ---
MargaretAnn Reigle
My time is spent trying to stay healthy and ahead of our 3 year old grand daughter that my husband Ken (class of 60) and I babysit twice a week. We celebrated our 50th wedding anniversary in 2014 by going to Hawaii. Last year we took trips to Omaha, NB Myrtle Beach, SC and Portland, OR. Our trips usually involve train historical societies or model railroading. It is a good thing we are both retired. See you in August.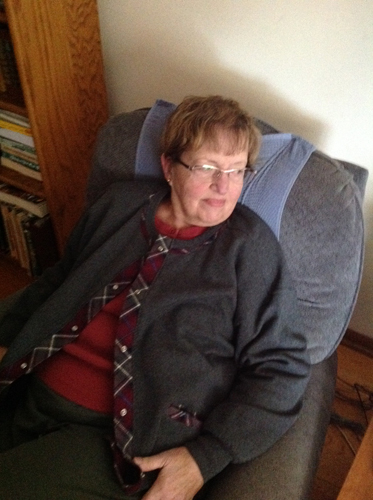 ---
Mike Harris
Hi gang. Since last we corresponded, I have retired from my 41-year tenure at The Associated Press. I pulled the plug in July of 2009 while living in Wake Forest, NC and assuming Judy and I were going to spend the ensuring years as adopted Southerners. That's when our daughter, Lanni, who was approaching her 35th birthday, informed us we were finally going to be grandparents. That came shortly after I told Judy that since she had followed me around for all those years to support my career, the next 40 or 50 years were hers to do with as she wished. Upon learning of Lanni's pregnancy, Judy said, "We're out of here." Within weeks, we were on our way to the Boston area to become daycare grandparents. Our granddaughter, Liliana Rose Isenberg, was born on Feb. 12, 2010 and we were living in Newton Center, a western suburb of Boston, and doing daycare five days a week from the time she was four months old. It was marvelous and exhausting. In August of 2012, Milo Lee Isenberg arrived and added to our duties. Now, Lili is in kindergarten and Milo in preschool and our "jobs" have gotten considerably easier. We lucked out by meeting some active and fun couples here, so our social life is also very lively _ a lot of Boston Pops, shows at the Berkeley School of Music, plays at some of the 28 four-year universities and colleges in the Boston area and lots of eating out. After retirement, I managed to lose 90 pounds and start working out on a regular basis. It's hard, but most of the weight has stayed off and Judy and I are in pretty good shape for old codgers. Now, we're just trying to enjoy our family, including son Tory, who is single and living in NYC, stay healthy and remain active. We're looking forward to seeing a lot of old friends in August. Happy New Year to all ' Mike Harris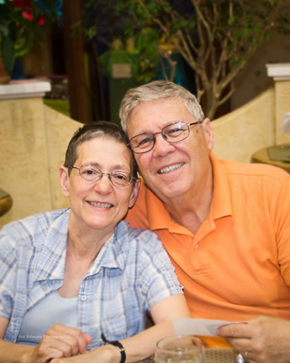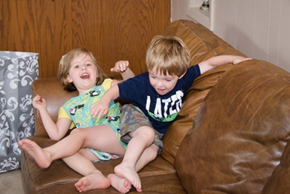 ---
Jeff Bartell
A few years before our last Class of '61 reunion, both Angie and I retired — me after practicing law for more than 40 years, and Angie after serving as a Dane County Circuit Judge for more than 30 years. The trauma of my retirement was eased somewhat by the fact that, at the time I retired in 2008, I was serving a seven-year term on the U.W.-System Board of Regents (along side our classmate Dave Walsh) — a fun and fulfilling assignment. Angie's retirement was eased by the opening of her mediation and arbitration business, which has become very successful and somewhat remunerative.

We spend much of the winter in Tucson, AZ where we own a small home near Ventana Canyon.

Among our five kids, we have 10 grandchildren — six in Madison, two in Evanston, IL and two in Portland, OR. Family get-togethers are loud, boisterous and . . . great fun. We are blessed.

In retirement, I am spending my time serving on several boards, including Edgewood College and a not-for-profit neighborhood assistance agency in Tucson. We also ride bikes, play a little golf, hike the mountains around Tucson, take a few classes at the University, and regularly attend classical and jazz concerts, theater and dance performances in both Tucson and Madison.

Recent vacation trips include Viet Nam and Cambodia, Israel, Spain, Morocco and Egypt. In September, we will be visiting Scandinavia and the Baltic countries.

It is wonderful to have the time and energy to travel and do the things we love to do. But we are both starting to feel our age. And since we now are spending nearly half the year in Tucson, AZ, we decided it was time to downsize in Madison to smaller, single-level home that we could easily leave in the winter. So, as of this July, we moved to a development in southwest Madison called Prairie Point, where someone else mows the grass, shovels the snow, washes the windows and fixes anything that breaks.

As Angie and I start this next chapter in our lives, I look back and remember those I grew up with at West, including those who are no longer with us, and I think how lucky I have been — lucky to have been able to stay in Madison for my career; lucky to have kept in touch with long-time friends; lucky to have found a life partner whom I love; lucky to have successful children and beautiful grandchildren — the oldest of which will be a sophomore at West this year; lucky to have been able to travel and see other parts of the world; and lucky to be alive and relatively healthy as I approach my mid-70s. I wish all my West classmates similar good luck.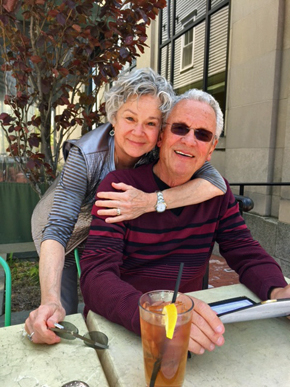 ---
Lois Joyce Montague
Attended St. Mary's Hospital School of Radiological Technology. Married Kent Montague, still together after 51 years. Raised two boys, Scott and Kevin, who have turned out to be fantastic young men. Scott is married to Laurie, they are both at Lands End in Dodgeville. They have our two above average grandchildren, Grace is 16, Austin is 13. Kevin and his wife Kate live in Northern Wisconsin. He is a very busy drug and alcohol abuse counselor, Kate is a social worker, in charge of "foster care". Kent and I spend our summer and winters in Breckenridge, Colorado. We love to ski, hike and bike. We go back to Wisconsin in the spring and fall to catch up with family and "old" friends. I am meeting Sandy Colvin, Nancy Raymond, Linda Billington, Mona Stein, and Peggy Ahlgren in Puerto Vallarta, Mexico for a wonderful warm week in February. Can't wait. Life is good.

Kent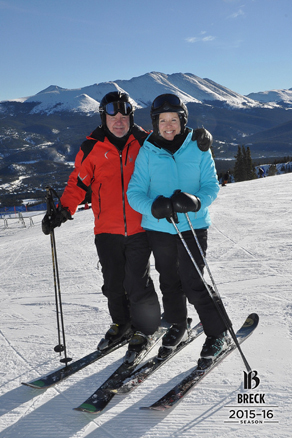 ---
Maggie Rioux
My spousal unit Terry and I have now retired from Woods Hole Oceanographic Institution – on the same day! – March 31, 2010. Since then we have been enjoying traveling, both on our own and with Road Scholar, which is educational travel, mostly for seniors. We've been to Iceland twice, done a train trek clear across Canada, and last fall did two weeks in Scotland. We are still on Cape Cod in Falmouth and loving it. I volunteer one morning a week with the medical library at our local hospital and we just retired from 20-odd years of medical volunteering at the Falmouth Road Race and the Cape Cod Marathon. All is well.

The pic was taken in Iceland last June. Terry and I are standing holding hands across the rift in the mid-Atlantic ridge – he's in North America and I'm in Eurasia. Cool!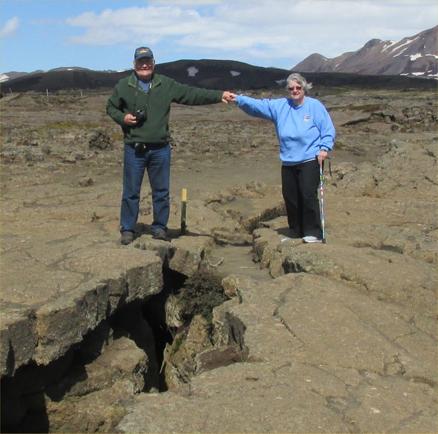 ---
Amanda Harding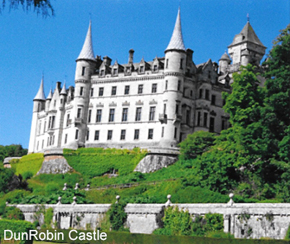 ---
Tom and Sue (Henkel) Deans
Since our retirement, Tom from the FBI and Sue from teaching, we have found many things to do to keep busy. Often we wonder how we found time to go to work full time. We have continued to enjoy water sports such as sailing, kayaking, swimming and other boating as well as bike riding and exploring new interests like bird watching and photography. Tom, as always, has been a car enthusiast and has managed to collect two Corvettes. The last 5 years we have headed to Florida as snowbirds for several months in the winter. Can't say we miss the cold and snow in Wisconsin. We have also managed to take some exciting trips. The most extraordinary one was to the Gal'pagos Islands. Last summer we celebrated our 50th wedding anniversary with our three children, their spouses and the youngest 4 of our seven grandchildren by chartering a classic old wooden boat for a dinner cruise around Lake Geneva.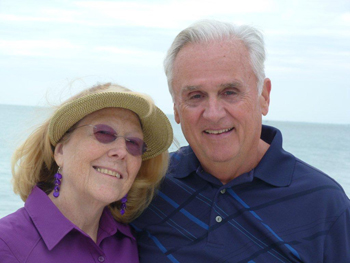 ---
Sandy Brown (Peterson)
Sandy Brown (Peterson) is retired and loving it. Good health has allowed me to do lots of volunteering, reading, exercising and traveling. During the past 5 years my sister Pat and I went with Overseas Adventure Travel to Peru, Turkey, and Costa Rica , and to Paris with Rolf to celebrate our 50th wedding anniversary, Also we have had trips to Florida, Calif. and all the Northwest National Parks. Last summer we drove the support cars for a bike tour with our son and family from Acadia National Park to Niagara Falls to celebrate his 50th birthday. When we can, we get to North Carolina and Chicago to visit our children and grandchildren and also up to Wis. to visit Rolf's siblings. We still enjoy living in the DC area and attending the rallies, museums and celebrations that go on here. I look forward to being at the inauguration of our first woman president next Jan. We adopted a 6 year old Polish lowland sheep dog in Aug. 2015 that was born in Wis. so we couldn't resist. He is already slowing down our freedom to travel last minute but is keeping us healthy and in good shape.
---
Larry Ozanne
Hello Classmates,
I retired in July, 2013. Since then, I have been helping my extended family and a special neighbor. I care for my grandsons when my older son and daughter-in-law need to work extra hours. Their boys are ages 5 and 6 now, and are fun but tiring. My wife, Marilyn, and I have been spending a weekend a month visiting our younger son in North Carolina, though he should be moving back to DC about the time of the reunion. I have continued to oversee my mother's finances while my brother Roy lives with her in the family cottage. The cottage is located on a beautiful dune along Lake Michigan, just north of Two Rivers, WI. My special neighbor was here when we arrived in 1978 and has been a friend of our whole family since. By the time I retired, she was no longer able to care for herself and she has no family to help. I have been helping her arrange for caregivers and manage her finances since. When I retired, I took over the cooking and grocery store shopping from Marilyn. Those tasks are still new enough that I mostly enjoy them; after 40 years, Marilyn was glad to give them up. I am spending less time on some activities than I imagined before I retired. We have taken few trips and I have fixed up few of the problems around our house that I had been postponing until retirement. I do attend occasional seminars and parties related to my job as an economist at the Congressional Budget Office. I suppose these activities seem boring, but I find then meaningful. They are also a refreshing change from my career.

The picture I am including is of Marilyn and me in front of our house. If you happen to have a West High year book from 1958, she will be in there as Marilyn Metz.

Larry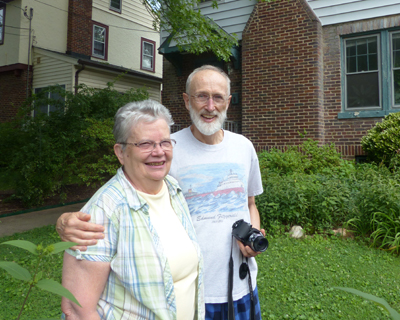 ---
Sue Buenzli Hutchison
I retired five years ago from the Dane County Library Service where I worked for 46 years. My life is now full of exercise classes, entertaining, travel and babysitting. My husband Ben and I have been married 47 years. We have three grandsons all under five and unfortunately two of them live in California so we don't see them as often as we would like. We don't travel as much as we used to but this year we went to Germany and Poland and in 2017 we are cruising from South Africa to the Canary Islands. The last few years we have been spending time in Palm Springs in the winter months.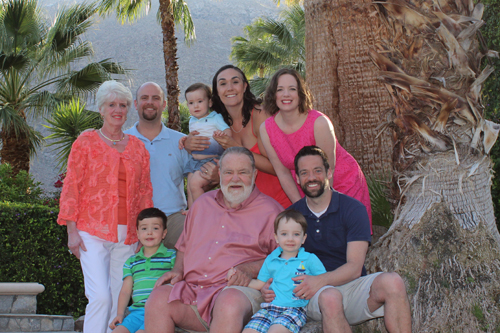 John Wettengel and Judith Troia Wettengel

John and I celebrated our 50th wedding anniversary on July 10, 2015. That's a lot of years, especially when you include the seven years of dating! We were introduced to each other by Al Durand just weeks before our sophomore year at West.

Between then and now we both managed to complete higher education and we both had careers. After John graduated from Miami U in 1965, we married and moved to Akron, Ohio, where he worked for BFGoodrich Tire & Rubber Company. After a couple of years, we ended up in Paducah, Ky, with BFGoodrich Chemical. We were there for 8 ' years. We moved to Milwaukee in 1976 for a job with Miller Brewing Company, where John spent over 25 years. I completed my education (BA and MSW) at Mount Mary College (now University) and University of Wisconsin-Milwaukee respectively while raising our two sons. We have five wonderful grandkids that bring us much joy. We have traveled to many wonderful places in the world and have been thoroughly enjoying retirement. Life has been good to us since West '61.

Most of our friends have been busy 'downsizing,' but we have gone the opposite direction. About five years ago we put an addition on our home that doubled its size, and we haven't stopped since (next was a remodel of the 'lower level,' then the garage, then the front of the house (after a massive, very old black ash in the front yard had to come down). We decided the house needed a 'facelift,' which resulted in a beautiful portico with copper roof, a lovely stone porch and stone walk. That led to a need for a complete landscape do over. Funny how these things 'mushroom'.

Why the 'upsizing'? We needed more room for when our children and grandchildren visit from their homes in Salem, MA and Tampa, FL. Most of the time, though, it is just the two of us. And we really do use every bit of the space. We are thoroughly enjoying our larger 'nest.' As long as we can have the Merry Maids to help us keep things clean, we are happy where we are and will never leave. We love Wauwatosa, we love Milwaukee, and we love our close proximity to Madison. We also love the four seasons and have no desire to head South or West.

John keeps busy with various roles at church. During the summer months he often sails with a friend. For many years he crewed racing on sail boats on Lake Michigan. We are both voracious readers, and we have season tickets to the Badgers football games, the Milwaukee Repertory Theater and the Milwaukee Symphony Orchestra. Milwaukee offers so many cultural activities that we could be busy every day and night of the week. It truly is a great place on a great lake.

True to my family heritage, I spend a lot of time cooking (have a large library of cookbooks). The addition included a brand new kitchen in which to indulge this passion. I have always loved fashion, but these days seem to live in leggings and tops. No place we go requires getting dressed up. That's okay, I'd rather buy books. Because I love books, I have amassed quite a library'floor to ceiling book shelves across the family room. Actually, books everywhere in every room. I am a knitter, a sometime weaver, and sometime painter. I am into mindfulness meditation and hypnosis. I also enjoy keeping up friendships near and far.

We look forward to seeing many of you in August.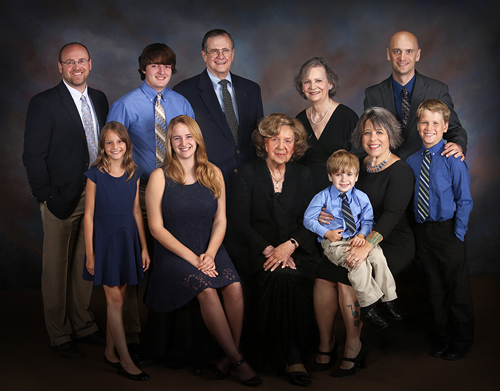 The photo is of our family, Our son Christopher and his daughter, Amelia (17), son Joshua (16) and daughter Jessica Grace (12); my mother, Elizabeth Troia who is 91 and still living in her own home in Madison; and our son David, his wife Elizabeth, and two sons Alexander, 10, and Elias, 5.
---
Mary Gilson Feay
I worked for ATT, Bell labs, and Lucent. I retired in 1996. My husband Bruce retired in 1999 from BP – Amoco. To read more, look at my home page, and Christmas letters at http://sites.google.com/site/mrfeay

We've lived in Naperville, IL for 30 years and enjoy traveling. We enjoy our involvement with many cultural organizations: In Chicago ' The Field Museum, Lincoln Park Zoo, Shedd Aquarium, Brookfield Zoo, Remy Bumppo Theatre, TimeLine Theatre, Teatro Vista Theatre, Chicago Council on Global Affairs; Also: National Geographic in DC and Bat Conservation International.

Thanks
Mary Feay
---
Sharon Lewis Ruben
We have finally retired after 30 years in our own business and then moving to the east coast of Florida and working for Crate and Barrel for 10 years. In 2011 we said enough is enough and left the east coast of Florida and moved to the west coast of Florida. We now live in Ft. Myers.

We have 8 grandchildren, 7 boys and one girl. Our daughter has 6 children (5 boys and the one and only girl). Our son finally got married 10 years ago and has 2 boys. The still live in Wisconsin so we don't get to see them as often as we would like.

Thanks

Sharon Lewis Ruben
---
Linda Kailin Dizon
Andrew Dizon

Time flies, another five years, and reading the "In Memorium" page, more of our classmates gone. I was especially saddened to see that Karen Larson was on the list. She was my closest friend in 4th, 5th, and 6th grades at Randall. I have such wonderful memories of time we spent together, thoughts and secrets we shared. She was a great friend. I've always had a great fondness for her.

Life is good here in the Twin City metro. It?s over ten years now that we came back from San Diego to the Midwest. Even the winters are great. Lots of family is in the area – daughter, sister, brothers-in-law, nieces, nephews. And we've made wonderful friends. That "Minnesota nice" you hear about is real.

Madison is still my all-time favorite city and we come to visit often. There are changes, of course, but much is the same – old neighborhoods, great parks, beaches, the Capitol, and the pizza at Paisan's.
---
Robert Buran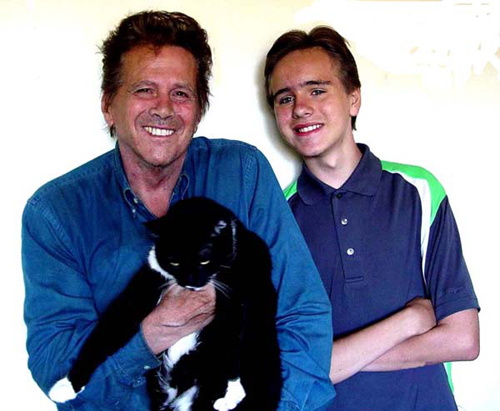 As a single Dad to a 15 year old boy, retirement or even days off, is something others do. But the truth is I love being busy all the time.

I continue to run a web site at www.short-term-stocktrading.com. I trade my own money and manage a few million of OPM (other people's money) and am still keeping my head above water. I just bought a new house out in the country a few weeks ago.

I also increased my diet and exercise fanaticism. We have about 50 miles of cross county mountain trails across the street from our new home. On a good day I can keep up with my 15 year old but only if he lets me. Erik gets better grades than I did and starts 10th grade in a few weeks. And in a few months he gets a drivers license. Oh my God.
---
Jessica Hagan Tesarik
Ron Tesarik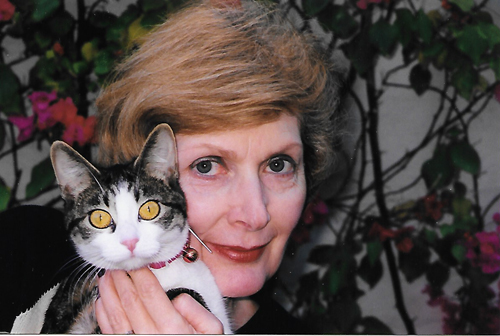 Always have been happy and blessed — love my family, a lot of good friends, and interests!!

Retired from Marshall Field's parent store as a Fashion Coordinator. Now we are residents of Naples, FL — only returning to Lake Forest on Chicago's North Shore in June through October.

It's a fabulous life !!!
---
Al Strauss
Sally Strauss

Still working 4 days a week as a Sales Trainer at SCI. My son Keith runs the firm and I only do what I really enjoy.
---
Joe Schiro

We lost the Matriarch of our family in February 2015. Our 92 year old mother Marjorie had 22 great-grandchildren.

We have lots of grandchildren (8), plus many great-nieces and nephews. We go to lots of sporting events, concerts, and sitting. Still love the woods, water, hiking, shooting, and sports. Wouldn't change a thing.

Bought a brick for West High Vets; go read it. God bless to all those who are on the other side. Miss you!
---
Leroy Sumwalt
Betty Sumwalt

My wife Betty and I are now retired. I was a pastor for 35 years, and my wife was a nurse for the same amount of time. We live in the south valley of Central California where we have been for about 24 years. My wife and I celebrate 50 years of marriage this year. We enjoy doing short term missions trips each year.
---
Rick Stege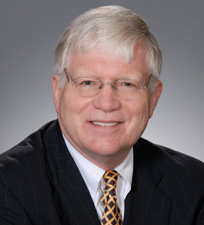 2016 is my retirement year. For me, it is a process, not an event. I will be teaching at the local law schools, doing law related projects, and refurbishing our house, inside and out. I have nor regets on my career as a lawyer.

I was shocked and saddened to read the list of so many of our classmates and friends (about 20%) who have passed away. That is very humbling and reminds me of my place and purpose in this life.

My marriage is wonderful. All is not well with my daughter in France. Let's hope for a better repost in five years.
---
Jon Mikalson
Mary Villemonte Mikalson

Since the 50th reunion we have continued to enjoy watching our two daughters, their husbands, and the five granddaughters thrive and pursue the many interests of the new generations. And Shadow, a black lab / beagle mix puppy, has brought new energy to our homestead here in Crozet, Virginia. For Jon dog-walking has replaced running, and Mary spends many a day hiking in the Blue Ridge Mountains with friends. Jon is still writing and teaching at the University of Virginia, to retire in May, 2017, and Mary is enjoying grandmothering and the many pleasures of retirement. Since the 50th we have travelled a lot, to the Black Sea, Russia, India, the Mediterranean islands, and, just this summer, down the Snake and Columbia Rivers to the Pacific, in the wake of our 19th century neighbor, Merriwether Lewis. And we always enjoy our annual family reunions at Pawley's Island, South Carolina. Next year we'll try the Baltic Sea and then back again to Greece where we spent a couple of our more youthful years. We'll miss seeing everyone at the 55th, but we'll be there for the 60th.
---
Judy (Berigan) Aubey

Life has been most interesting in the five years since I retired and since our last reunion. My family continues happy and healthy, with sons and their families living in Madison and NYC. My 94 year old mother died two years ago, and my six siblings and I were just able to have a long delayed reunion and family memorial for her in May. Two siblings live in Madison; four came from Georgia, Utah, California and Brazil. We ate, we drank, we laughed and the out of towners explored the ever growing metropolitan area that is Madison and Dane County. Our last evening together, we had a campfire at Festge Park, outside Cross Plains.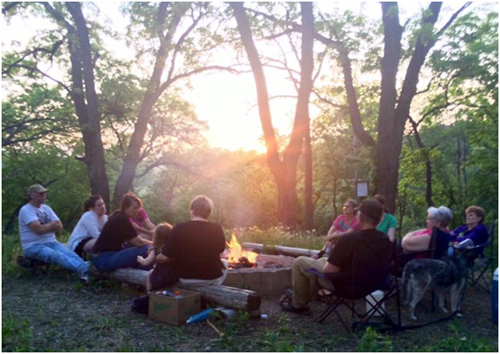 (There are seven Berigan siblings pictured above, all of whom graduated from West, as did my three sons and one grandson. Also present, but not all pictured, one niece, two grandnieces and two spouses.)

We had a weekend of grilling and brunch and fun. We had a family photoshoot. Here's a picture of my crew at my son Mark's eastside Madison home.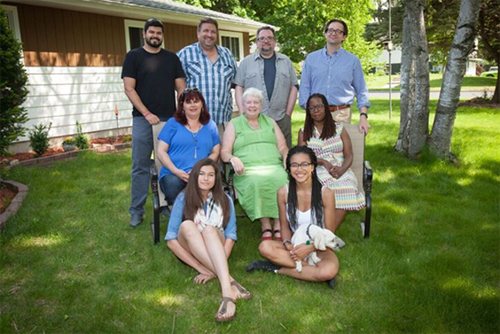 Pictured at son Mark's house: (Front row (left to right): Granddaughters Julia and Maddy; middle row: Patricia, me, Janice (daughters-in-law); back row: Luis Felipe (grandson); and sons Mark, Luke and Ben)

I'm still having a varied and interesting life, despite some truly annoying musculoskeletal issues that limit the duration of my walking and standing. I'm on hiatus from corner working sports car races, as standing up for long period of time (no sitting down, if the track is 'hot') is not allowed, which is quite a nuisance. I hope to return to that volunteer work, as it is fun ('the second best seat at the track'), and the Midwestern Council of Sports Car Club people are almost a part time family. I'm still involved with the WI Public Health Association and the Alumni Board of the UW School of Nursing. I hang out with my retired public health colleagues via monthly breakfasts, and with those still working, via email and, of course, Facebook. I've spent my last several years discovering parts of Wisconsin that I haven't had time to visit for years, plus visits to Montreal and NYC. And I still have plans to get further afield (my mother's last few years meant staying on the same continent).

Hope to see you all at the reunion.
---
Mike Bunch

We've been very active since moving to Lake Superior 6 years ago.

I continue Engineering work designing etching presses for Northland College in Ashland and a clay extruder for Ashland High School. Have also given talks to a Northland College chemistry class on plastic injection molding and plastics recycling.

Paula and I have both been involved in music here. I play in the Chequamegon Symphony Orchestra and Paula the sings in the Chequamegon Choir. We both serve on the board for the Ashland Chamber Music Society.

We've both also been very involved in conservation efforts in Bayfield County, studying the effects of potential iron mining and hog CAFOs on the water quality in Lake Superior.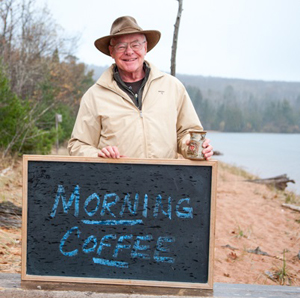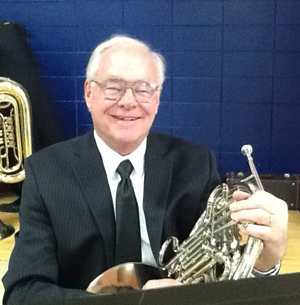 ---
Steve Victor

We are still New Haven, Connecticut (home since 1977).

As I was approaching retirement, I decided that I couldn't retire until I knew what I was going to do. So, now I keep busy with two part-time jobs and fill the rest of the time with traveling, walking, kayaking, reading, making hard cider, cooking and gardening.

I retired to pursue an interest in archaeology developed when I worked in museums and in educational travel. I audited courses in archaeology at Yale, undergrad courses at first but then graduate seminars. It was fun being back in school.

Now I am the manager of a lab at Yale's archaeology department. The aim of the lab is to use archaeomagnetic techniques to date features and objects from past cultures. I deal with scientific concepts more difficult than anything I have done since college. As part of my work, I just took a two-week summer school course in rock magnetism at the U. of Minnesota.

Before I retired from the Association of Yale Alumni (in 2008), I planned educational programs and enjoyed working with faculty and alumni in developing educational travel programs. Some of those programs were week-long theater seminars. I liked that work enough that I now organize theater programs in London on a contract basis for the AYA. I research the plays (which our faculty leader chooses among), then I get tickets, arrange transportation, pre-theater dinners, etc. So I get to see great plays in a great city either once or twice a year.

And before working for the AYA, I planned interpretive exhibits for historical museums, mostly as a consultant. I enjoyed the projects, but being a consultant wasn't satisfying. And before that, I taught history of science.

My wife is Susanne Roberts; we met in grad school at Harvard and have been married since 1973. She was Librarian for European History at the Yale library. She continues to work on a study of an Italian family from Renaissance Florence; their papers are at Yale.

We have two kids: Ethan lives with his wife Amanda nearby in Branford, CT and works as a representative for a company that sells materials for spinal surgery. Our daughter Serena works for a major public broadcasting firm, WGBH, in Boston, managing their human relations information systems.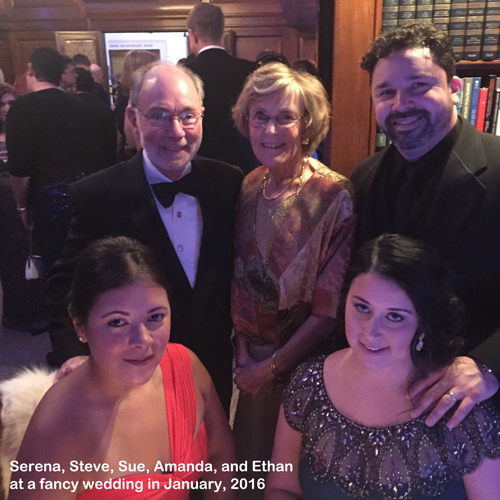 ---
Susan Powers Kane

I am keeping busy with Life Long Learning Institute classes. I am reading and studying European history. I enjoy travelling, theater and the visual arts. Most of all I'm just enjoying retirement in beautiful Sonoma County.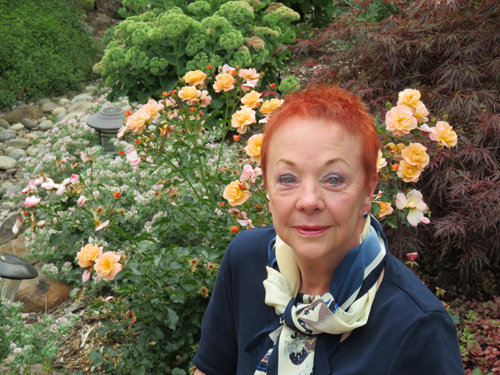 ---
Margaret Ann Curry Reigle
Ken Reigle

Ken and I help with childcare costs for our daughter Kellee by babysitting 2 days a week for our granddaughter Adrianna. All the children's library programs and playgrounds and play dates are very different from what we did with our kids.
---
Susan Shiels Little
Jim Little

Having finally come to grips with retirement, I keep occupied with book clubs, also with being a docent at the Museum of Fine Arts, and participation in a speakers forum. Still traveling and seeing the world.
---
Tom Rogeberg
Karen Rogeberg

Five years ago, we moved to Athens, GA to live near our son John and his family. Tom continues in semi-retirement to work for the Fellowship of Christian Athletes creating communication pieces, setting up training sessions, and writing monthly reports on the 290 FCA Staff in Georgia. Karen works part time for Dr. James Dobson. Both of us are involved in several bible studies.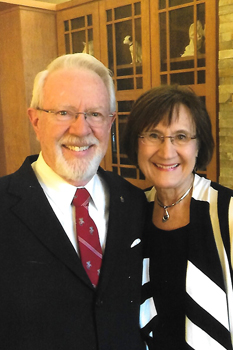 ---
Joan Milesky Gaberman
Barry Gaberman

This is a pretty exciting summer for us … we will be celebrating our 50th wedding anniversary with our children and grandchildren. It has been a wonderful ride. We are still in Longboat Key, Florida, where we enjoy the lifestyle and weather. We continue to travel and have some wonderful friends with whom to do it. We have been very fortunate!
---
Morris Egre
Cheryl

Little did I know that the best part of my life would come as a geezer, but my grandchildren are the joy of my life. My daughter lives in D. C. and is a contractor (law degree) my son lives in upper Washington state, is married with 2 step-daughters and works for a big oil refinery. My wife is a sweet southern belle and we live in her hometown, Roanoke, part time and part time in my home in San Diego, near Balboa Park. I am proud that I served my country in peacetime and in war my entire life. I retired 11 years ago as Chief Administrator for the U. S. Attorney Office (Southern California) after 27 years and was honored by an award from the Vice-President of the Untied States, in part for also co-founding and chairing a non-profit government corporation. Prior to that, I worked 6 years as Personnel Officer in Washington, D. C. for U. S. Attorney Offices nationwide.

I am a disabled Army veteran of Viet Nam where I was honored to receive the Bronze Star.

I'm sorry I can't attend the reunion, but health concerns preclude it. I have had little contact with Madison since graduating from U. W. with an MBA in 1968, and was immensely shocked to learn all at one time that 100 classmates had died. It felt like a plane crashed with 100 friends aboard. May everyone take care. God bless.
---
Denis Hansen

Retirement continues to be rewarding in many ways. I find myself internalizing bits of wisdom that came from my parents. Wow! I continue to live on Tucson's West side and I am greatly enjoying all of its fantastic recreational activities and access to nature. I return to Madison for 2-3 months in the late summer/early fall. I get together with friends from West and Wisconsin High for lunch and enjoy tailgating at Badger football games with friends from West. As time goes by I increasingly enjoy the opportunity to see our classmates at our reunions and always feel sadness when I read the names of those who are no longer with us. I continue to appreciate the wonderful times we enjoyed together. Go Regents.

Ed, thank you for all of the work you put in for us all!

Denis Hansen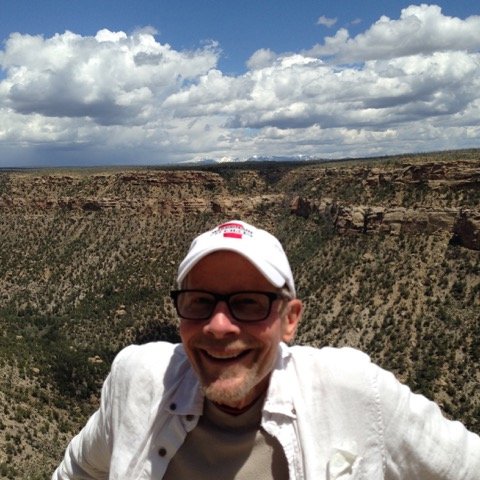 ---
Hal Krider

I regret that I will not be at the reunion, but I think of you all often. I have been completely divorced for about a year, have bought a home in Las Cruces NM, and live there and in Wickford RI about half of each year. There is plenty of room for visitors at both places. Bring golf clubs and an appetite. I continued to dabble in my molecular biology and imaging interests in connection with two small companies with which I have projects. I can't find a studio out West, so my glass blowing has come to an end. But my Airedale and I remain active and enjoying our lives. Be Well

Hal
---
Mike Foye

Raised by single mom in Madison. Went into the Navy out of high school. While in Navy my family moved to Texas where my Mom 's family was living. Went to Texas after discharge and attended Del Mar College in Corpus Christi. Went to work for a steel distribution company in Houston and my career took me to upper management. Spent 9 years in Houston then 9 years in Cincinnati then on to Philadelphia where we lived for 15 years. I parachuted out of the steel company after 25 years and formed a medical equipment testing and service company in Philadelphia. I returned to Texas in 1999 and continued to run the Pennsylvania business from our home on Lake Travis just outside of Austin where we remain today. I finally sold the business and retired just this last December. Starting in 2011 I began to have health issues. I had cervical fusion surgery then 3 months later had a quadruple bypass and was fine until mid-2013 when I had jaw cancer that was a 2 year fight with 13 surgeries. Long fight but always with a positive attitude toward the future. Fully recovered now ' cancer free and doing mentoring to adults, children and their families fighting cancer. I am living my dream with my wife Alice and our 3 children (two girls and a boy) and 5 grandchildren (all girls and I adore each of them) all of whom are here in Texas.

Sorry I am unable to attend the reunion. My hope and prayer for all of you is that you are able to live your dream and always remember that survival is in God's hands but the continuing pursuit of happiness is a choice. Never give up!

Mike Foye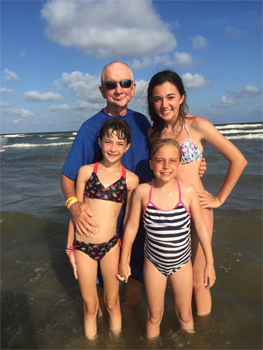 ---
Jay Carlson

After living in Washington, DC for over 45 years, Lyn and I moved to Madison to be with our son, daughter-in-law and grandchildren (ages 2 and 4). We now split our time between a downtown condo and a log home we recently built in the Driftless Area of SW Wisconsin.

The picture below was taken at our country property where we enjoy reading, hiking, snowshoeing, as well as kayaking on the nearby rivers (Kickapoo, Mississippi, and Wisconsin). In Madison, we are involved in various activities at the University and take full advantage of all that Madison has to offer. Lyn and I recently celebrated our 50th wedding anniversary and feel blessed to be back in Wisconsin.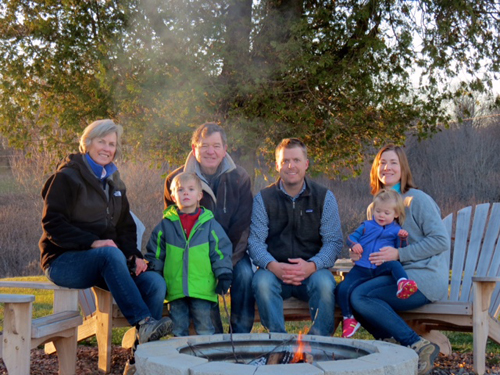 ---
Ronald Schwoegler

I attended MATC after graduation with a degree in lithography. I spent 4 years in the navy leaving as a 2nd class lithographer in 1966. I spent time both aboard the USS Saratoga and at Cinklandfleet in Norfolk Virginia. I then came home and spent over 30 years as a cameraman at Webcrafters leaving in 2002. I have been blessed with 14 years + after having a liver transplant in 2002.

I married Adele (Dee) Svanoe in 1968. We have two children ' Amanda (Dan Crandal) of Madison and Rodney of Gilbert Az. We are blessed with 2 of the sweetest granddaughters ' Andrea (10) and Leah(8) of Gilbert Az.

Dee and I have spent the last 10 years wintering in Bradenton Fl. And visitors are always welcome.
---
Sally Sweeny
Michael Sweeney

I am retired and Michael is still working 3 days a week. We have downsized and don't miss the work of a big house, etc. I'm learning to oil paint and having a great time with a new creative endeavor.
---
Sharon Callies Cameron
James N. Cameron

We just celebrated our 53 wedding anniversary.
---
JoAnn Kotz Orlick

I still work part-time as a bonded clerk handling all the customs liquor paperwork, ordering, receiving and distributing for 7 international airlines out of O'Hare. I also still teach math and reading 7 hours a week to 3-7 year olds. Just am not quite ready to fully retire. I play a lot of bridge and poker and still love to play euchre but it is not real popular in Illinois.I enjoy going to concerts and plays and of course football, basketball and baseball games. You can still find me at a Badger football or basketball game. I have spent the last 16 years attending all the little league, junior high, high school and travelling league games for my grandchildren. As of August those four will all be in college. I will miss those games and watching them excel!!

I have three children–Tim, Chris and Jay and five grandchildren–Katherine(junior at William & Mary College and interning in Washington D.C. this summer); John(junior at University of Michigan and interning at a chemical engineering firm this summer); Patrick(freshman at Butler) and Timmy(freshman at Michigan State University). My grandson Joseph is 17 months old and such a joy.I also have 4 granddogs(Jordan, Annie, Quinn and JJ) and a grandcat Ed. I look forward to catching up with everyone in August.

JoAnn Kotz Olrick
---
Ron Fagerstrom

Still working full time, helping persons with disabilities to become employed. Went to horse races in Louisville. Visited kids/granddaughter in Oakland CA and Portland OR and in St. Louis. Take in occasional operas and Cardinals games.
---
Dianne Rider

I married Joel (East class of '60) in 1963. He passed away in 2013, just short of our 50th anniversary. I was a full time mother and worked for the State before going into partnership with Joel managing three businesses in Madison and DeForest. I am now retired and enjoy gardening and traveling with friends and family. With family spread out from the East coast to the Southwest I plan to stay in Wisconsin, enjoying the warmer southwest in the winter.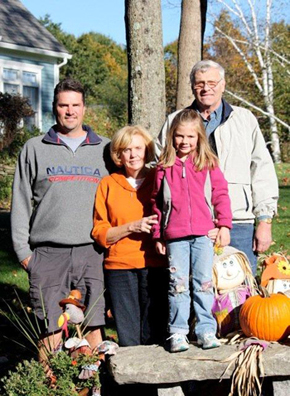 Dianne with Brooke and Briana My son Tim, his daughter Samantha, me, and Joel in 2010
---
Jack Gribble

Sorry it has taken me so long to get this update about myself to you. I don't have a good excuse. There really hasn't been a lot to add in the last 5 years. We are still up here in the north woods on Middle Eau Clare lake. Still doing a little hunting and fishing even if it's harder to get motivated.

Health wise we are not to bad, although Barb is having a harder time getting up and down stairs. We won't be at the reunion, but I'am sure you will all have a great time.

Jack Gribble
---
Mary Dohm

Life has been wonderful for me since our last reunion. In 2012 I met a wonderful man, John Gregorich. After months of dating, we decided to combine households. I sold my Condo in Middleton and moved to Waunakee with John. We spent the next while remodling his 50's home to my liking, a task that was both frustrating and rewarding.

After finishing our remodel job, we spent the winter in Naples, Fl. After 2 years of renting at "Enchanting Shores" a Naples senior park we invested in our own home. That called for more redecorating. We so enjoy our time in Naples and have made so many new friends. We play Bocce, Shuffle Board, bridge and euchre. The park is so busy we hardly have time to sit down.

In Waunakee we play lots of cards, I lead a senior bike group for SAS. WE go dancing whenever our favorite bands are playing. We also enjoy many activities at the Waunakee Senior Center. My flower garden this summer is the best its ever been.

My granddaughter Megan Olson will be a Junior at UW Madison and this will be her third year playing trumpet with the Wisconsin Singers. Watching her perform really gets us into the UW spirit. My other granddaughter Carly attends Viterbo University in Lacrosse and is majoring un music. TJ graduated of Waunakee Highschool this spring,he will attend Madison College in the fall. Garet will be a senior at Waunakee Highschool next fall. We enjoy watching Garet bowl and play bocce in Special Olympics.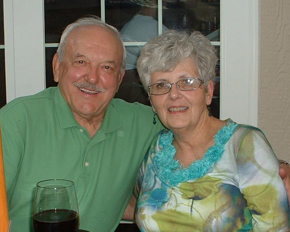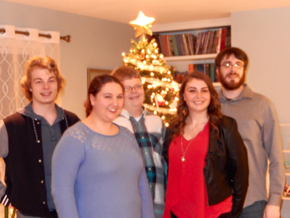 Mary and John Shelley Ziegler, Chris Ziegler, Me, Terry Ziegler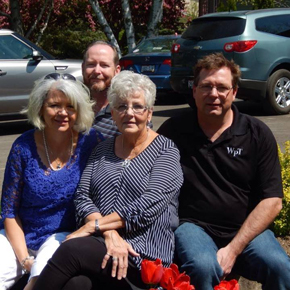 TJ, Megan, Garet, Carly & Jesse
---
Sue Royston Ullsvik
Tom Ullsvik

Keeping busy in retirement — babysitting and supporting grandkids activities, volunteering, hiking, biking, gardening, and spending time at our cabin uo north.
---
Sue Bonfield Volkmann
Art Volkmann

After being able to do whatever I wanted, my cancer returned in February 2014 and that has defined my life since then, fighting. UW Hospital Carbone Cancer Center is great. God is good and gracious.
---
Jane LaCourt Ebert
Ray Bernards

I am a lab tech and love my work. I don't plan to retire until my body says enough! Then maybe I'll cut back to part-time.
---
Joan (Ranney) Westgard
Jim Westgard

We are still in Madison; both semi-retired while running our business, Westgard Q. C. I also have an antique shop at Odana Antique Mall in Madison. Grandkids are the delight of our lives. We continue to travel the world for our business.
---
Carol Adolfson Rittle
Walt Rittle

Walt and I celebrated our 53rd wedding anniversary this year. We are the proud grandparents of Jonathon and Oliver, who are the joy of our lives. I enjoy volunteering at 2 resale shops, doing church activities, working in our yard, entertaining friends, playing bridge, and baking cookies which I do weekly for a senior duplicate bridge group and also the grandsons. I'm known as the Cookie Lady. We enjoy traveling around the country and look forward to January when we go to Florida.
---
Bill Muehl
Pat Tuckwell

We are enjoying U.S. travel, volunteering with Dane County Parks, and U.S. Fish and Wildlife.
---
Krisite Baile

In Florida for 37 years. Part-time working for Nedical Doctor. Traveled all of the U.S. except Washington. Enjoying all our grandchildren.
---
Lance Sethne
Pat Sethne

We just play it by ear, whater happens, happens.
---
Jim Thomas
Mary Ellen

Still in construction with the company I started, South Central Construction, Inc.
---
Dick Weber
Barb

First career – Army Physician for 23 years, all but 3 years spent in acedemic positions.
Second career – 4 years in private practice.
20 years at National Jewish Health in Denver, a prepretory hospital. Planned retirement in one year.
---
Sue Colvin Wittmayer
Tom Wittmayer

Not too much has changed in the last 5 years! Still on Woods Rd in Verona – 48 yrs!

Still married to Tom Wittmayer – 23 yrs! Kids: Kim still teaches at Mt Horeb High School, Mike is still working heavy equipment in Montana, and Dana is a high school counselor in Minneapolis!

Grandchildren: McKenzie is a Sr. at UW Madison, Kollyn is a sophomore playing football at UW Oshkosh, Taya is a Sr in high school in Minneapolis, and Addie will be in 6th grade in Mt Horeb Middle school. Oh yes, we do have a new addition…Emma is a spoiled mini Aussie pup!

Still traveling as much as possible and we're still crazy about our Badgers!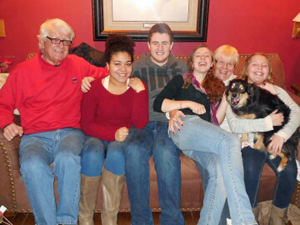 ---
Sandra Brown Peterson
Rolf Peterson

We spent our time traveling a lot — volunteering, and relaxing. After 17 years, we added a dog, a Polish Lowland Sheepdog rescued from a family with a child. He keeps us fit and laughing a lot!
---
Peggy Burgdorff Douglas

I continue to love Minneapolis, my home since 1972. I celebrated my 70th birthday by retiring in 2013. I continue to be involved in numerous community organizations, read lots for my 3 book clubs and do the prerequisite retirement travel. I am fortunate to have my family in Minneapolis and many long-time friends. I plan to stay here as I am definitely not a Florida/Arizona type. I love being part of a big city and all its amenities. I was in Madison last October for my college 50th. Madison is still on the top of my list for great places to live. And there's nothing better than a Badger game at Camp Randall on a beautiful Fall day. Life is good! Enjoy the 55th!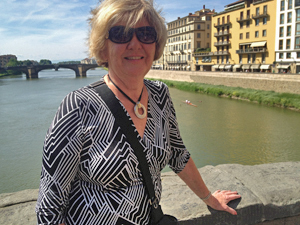 ---
Pam Sandrock Dannenberg
Larry Dannenberg

View a PDF version of Pam's bio. It opens in a new window.
---
Dennis Herling

Ed, Class of '61 Another 5 years have gone by. Seems like I am either winding the clock or tearing off calendar pages, but I am at least greeting another day with good health and family, all great gifts of God. Sometimes I feel like I have aged more than 10 years in these past 5 years however.

We do get to Wisconsin during most recent summers, but never at the time for this reunion. These are road trips, visiting my wife's families in and around Mazomanie, and to Columbia MO to visit our daughter and family. The trips always include lunch at the Village Bar, and a trip around the neighborhood, and Madison. I really don't have any family on my side remaining in the Madison or the Wisconsin area. We get to see our son's family more often as they live just north of Seattle, 50 mile drive and a ferry trip away. My brother, Class of '67, lives about an hour away. We were blessed with the first great grandchild born in Seattle, now 6 months old- Jacelynn Kaye Wells. We took some family pictures in MO last September; these are my girls, Gloria and Asti (14)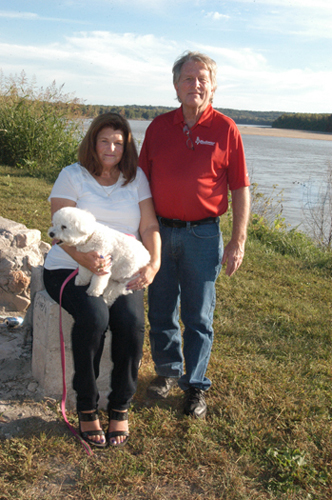 Then in June, my daughter Leah and me at a family wedding at the Bergamont by Madison.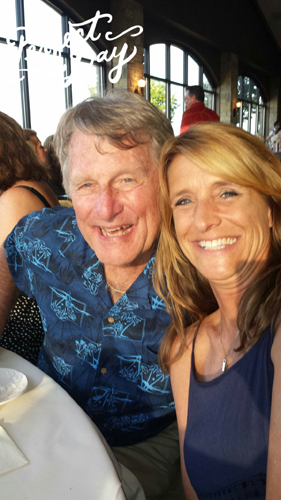 It is good to see news and pictures from others to keep up with some of the changes.

Thanks to Ed, Karen and all for what they do to keep this all going. I hope everyone has a good reunion, may God bless you all. Party hearty, stay safe. Let's hear from all for the 60th!

Dennis
---
Libby Barnard Farmer
Ralph Farmer

53 years of marriage, 2 kids, 3 granddaughters, all in Madison. Newest edition: our rescue pup Tater Tot — typical beagle, adorable but naughty.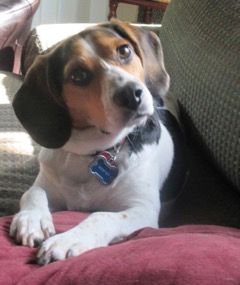 The 5 lovely ladies in our life Tater Tot
(daughter, daughter-in-law, and 3 granddaughters)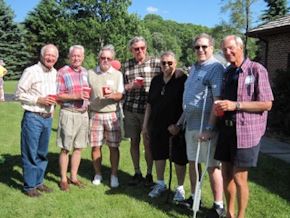 The Boys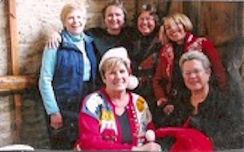 We miss you, Marianne,
Love, Karen, Libby, Peggy, Kathy and Linda, the Regent Girls.
---
Klaus Helms

Although I can't make it this year to our reunion West High is still on my mind, also because my older brother, Evert, class of 58, still has some connections to old friends from West High.

I retired seven years ago, having been a teacher and psychologist (M.A. from UCSB). Karla, my wife of 42 years and I still live in our 200-years-old farmhouse which we renovated many years ago. We spend our time doing volunteer work (helping young immigrants, reading to kindergarten children, managing a sculpture exhibition of African sculptors and above all by being active in nature protection). The rest of the time I divide between an old water mill which I keep running with a friend to saw wood the old fashioned way and several bee hives to produce my own honey. Once in a while I take my four-wheel-drive and with a friend travel to far off places ' like Australia and Latvia last year ' to enjoy the country side off the beaten track and to play in the mud or dust.
---
Ed Gulesserian

Fully retired since 2008. Twenty years in the Army and 20 years in business. Living in Atlanta which we like a lot. Trips to Wisconsin once or twice a year, which we also like a lot.

It dawned on me one day that there wasn't any job and perks worth sacrificing any part of my remaining years. Retirement was a short, quick step, and better than I had imagined. Now life is a bit simpler, but still full. Nothing revolutionary but it's all good: kids, grand kids, friends, trips, reading, movies, golf, etc. It's the freedom to get up each morning and do the things that sound like fun, and not do the things that don't sound like fun. Haven't worn a watch since the day I retired; don't even turn on my cell phone for hours at a time.

Sandy and I have been together 17 years. She is better than terrific. We feel lucky to have found each other. Between us we have five kids and six grand kids (and a dog that is a bucket-of-love).

I've worked with all kinds of people in all kinds of situations in all kinds of places. For whatever reason, I gravitated to intense organizations with their distinct challenges. It was never dull and could be fun (if I let it). Today those issues that used to consume my time seem of little importance, although they can make for lively conversations with good friends. One thing we all agree on is that other people have successfully stepped into our positions and not missed a beat – no matter how irreplaceable we thought we were.

I couldn't end without saying how much I've come to appreciate Madison in general and West High School in particular. I was lucky to have grown up there.

Ed Gulesserian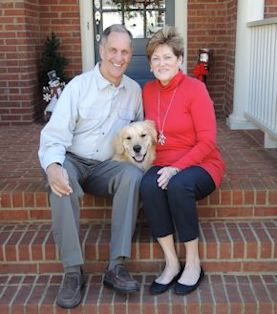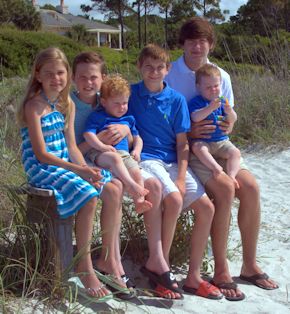 ---
Donna McDowell Beestman
George Beestman

View a PDF version of Donna's bio. It opens in a new window.
---
Kim Rellahan

After 47 years of being perched on Bond Market trading floors in Chicago, New York and London, I retired in 2013. My wife Minna and I moved permanently to our summer property in Finland, 40 miles north of Helsinki. Rather like countryside living and with 12 dogs and 5 cats under our roof and a couple of horses in the stables, our travel time has been limited to annual trips to London and our favorite Hotel Covo Dei Saraceni in Positano Italy. We would really like to make a visit to Wisconsin, last 1985, but I guess memories will have to suffice for now. Hats off to Karen, Peggy, Ed and all the others that keep this 1961 class to be so well informed….cheers everyone.
---
Gary Richard Johnson

Retirement? What's that?

I will be in Madison the week before the reunion with my son during UW's Grandfather's Weekend ' albeit, I am not a Grandfather, yet.

Regrettably, I need to fly out on this coming Sunday the 31st of July. I wish I could stay and be there to see everyone, but unfortunately, other commitments can't be changed.

In my absence I extend my best personal regards to everyone in the Class of '61.

On the home front, I'm still managing and running the real estate portfolio that I have been diligently acquiring over the last 42 years. Since this is more then a fulltime job for more than several people, I am actively looking to liquidate, what has now become a much appreciated portfolio, and turn it into a passive, (easier to manage) mobile home park(s).

But, by far my biggest personal commitment and greatest joy is being able to raise my rapidly growing 12 year old son Garrett.

We enjoy the benefits of living in our lakefront home in Mission Viejo and travel as much as time permits.

Attached are some recent photos, including one from the Badger's Holiday Bowl win over USC.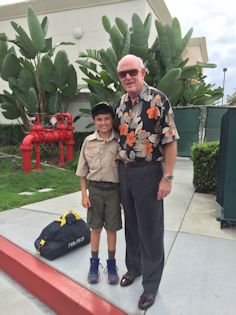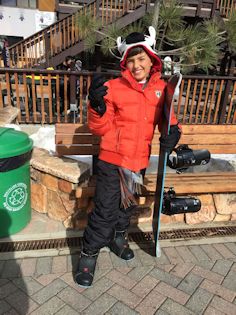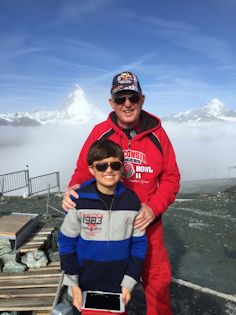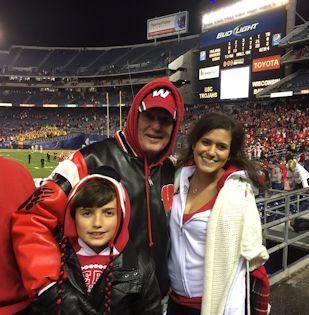 ---
Gene Wells

The two most significant events in my life during the last five years involved members of the West High classof 1961.

The first was the celebration of life service for my brother Gary, who died of lung cancer on May 31,2015. It was held at the Buckhorn Supper Club near Milton, Wisconsin on September 26, which would have been Gary's 71st birthday.

Joe Jackson picked me up at my apartment that morning. Then he picked up my younger brother Bruce, from the West High class of 1970. After that we headed Eastand he picked up Jim Scrivner, who was at a car show near Jefferson. Then we turned South to the Buckhorn, Gary's favorite restaurant. Gary was able to visit it frequently since both his daughters live in Janesville.

At the Buckhorn I was able to revisit Gary's wife Mary, their twin daughters Linda and Lisa, and Mary's brother and sister. Pat Slattery was there, along with several other members of the Eliminators Car Club. I also met several of Gary's co-workers at Nicolet instruments. Several of them immediately recognized me as Gary's brother, even though I had never met any of them before that day. It seems Gary and I grew to look alike over the years. I don't think we looked at all alike in high school.

During our meal, we had a chance to tell our stories and remembrances of Gary. Mine was from our time in boy scouts. It went farther back in time than anyone else's.

Afterward we walked out onto the pier and released balloons into the air.

The second major event for me was the 50-year reunion for the UW-Madison class of 1965 in October. Jeff Bartell was on the reunion committee and presented my 50-year pin to me. Others from our classwho were there included Pgggy Burgdorff, Randy Marks, Tom Rogeberg, Warren Wade and David Walsh. Karen Hult Scheele was there with her husband, who is a 1965 graduate.

In all, it was a memorable fall of 2015 for me.
---
Dawn Holmes

I was so looking forward to coming to this reunion, but I have had to change my plans. I still have my real estate company, Holmes Realty,llc "There's no place like Holmes" and work occasionally. I only have a few agents now.

I also still do some commercials and promotions for products and hotels and occasionally as an extra as we have so many movies filmed here. I have enclosed a birthday photo from this month and a commercial promotion for "Two Faced" that I did in May.

My husband that I was with for 35 years passed away 8 years ago. He was with me at the last reunion I was able to attend.

If anything changes at the last minute and I can attend I will let you know, but as of now I will not be able to be there.

Miss you all, Dawn Marie Holmes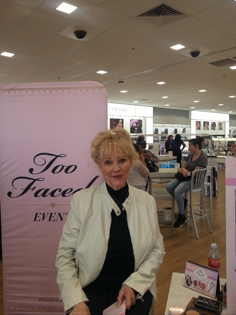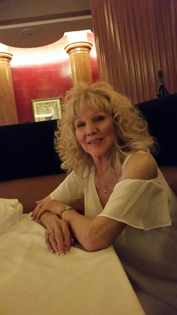 ---
Karen Daggett Wertymer

After graduating from West and then the UW, my husband (John Wertymer) and I married, and spent time in Panama and the Canal Zone where he had ROTC duty. We returned to Chicago in 1967, both attended the U of C for graduate school, and then moved to Park Forest IL. We moved to Evanston IL in 1973, and have lived here ever since. I got a Master's Degree in Social Service Administration at the U of C in 1981, and have worked as a clinical social worker since then.

My husband John and I celebrated our 50th anniversary a year ago, and continue to enjoy good health, our careers (mine as a psychotherapist and his in real estate) and many good times with our 3 daughters and their families (which include 6 phenomenal grandkids ages 5 ' 19) and all of whom live very close to us. Three years ago we sold our home and moved into a lofted 'walk to everything' condo space and love not only this efficient way of living in a community we love, but exercise regularly, continue to enjoy art, theater, and music events, new and old friends, and are both involved in volunteer work.

Life is very good!
---
Jack Novick

Since our last reunion, Jeanne has retired after 7 years as CEO of the Grand Rapids Chamber of Commerce. She is enjoying the time off, but is still doing Business Consulting (Strategic Planning, Operations, Leadership development) and Motivational Speaking.

Her disabled son has moved in with us so we can help him more and monitor his needs. I am doing a lot of Math tutoring of individual high school students. After 30 years in the classroom, I feel I am finally able to do some real math teaching, vs classroom management. I love doing it and the kids really appreciate it.

I am also volunteering for local non-profits. I tutor their staffs on them how to use Word and Excel more efficiently. They don't have the funds for this kind of training, but desperately need it. I still play tennis 4 times a week and love it as much as before. (i.e. tennis bum) It is an easy way to get my exercise, have social contacts and release some stress. I am now a certified tennis instructor and work at a tennis camp each summer at in northern Michigan.
---
Peggy Ahlgren

After spending almost 35 years making functional pottery in an old remodeled cheese factory in rural Spring Green, WI, I decided about 10 years ago that it was not a wise idea to live alone in the country as one was heading into their mid-60's. So I started looking for a place in the Madison area. My criteria was that I wanted to live where I could see the sun set. I found a condo on the north east side of Middleton (sort of near Waunakee) looking west over the Pheasant Branch Nature conservancy.

I am blessed to have sand hill cranes in the area. They wander about my neighbor's back yard most summer afternoons, a perfect spot for me to see them from a comfy chair in my living room. An occasional turkey will wander onto the patio or a little red fox scurry along the hedge.

I have been volunteering 2 days a week for the Alzheimer and Dementia Alliance of Wisconsin doing office work. Am now accomplished at being able to copy something on both sides, collate and staple all in one stop. I'm also great with both the postal and folding machines. So different from making pottery. This group was really helpful years ago as my mother began a journey with dementia and I'm glad to be able to help them now.

I also do lots of work here at the condo. We have 32 units and I try and keep the grounds looking nice and also fuss with numerous invasives that are in the Conservancy that borders us for about a block. My particular enemies are garlic mustard, buckthorn, burdock, nettles and thistles.

I knit scarves and mittens for a senior organization – RSVP – for kids in the Madison area. The mittens are a tribute to a dear friend who died of cancer. My mom had taught her to knit when we were kids and Betsy made the most unusual and wonderful mittens.

Winter will find me in Puerto Vallarta Mexico out in the Bay looking for humpback whales. They are spectacular. This bay is one area where they go to in winter to mate and have babies.

I work with Robin Allin and Jeff Bartell to help fund our Class of '61 Educational Foundation. As a class we have really made a difference in the behavior of kids at West by helping to fund the "Respect Retreat" for their 9th graders.

My other mission is to try and keep track of each and everyone of you. For me, we are a very special group. I hate it when someone is added to our "Forever 18" list.

Please let me know when you move so we don't lose you. I expect in the next few years many of us will move to be near kids, one level housing or places where we can get a little more care.

P.S. I feel that we were really lucky to be born during the Golden Age of Childhood.
---
Sue Royston Ullsvik

Here are a few fairly recent pictures of my husband, Tom, and I and of our 7 grandkids. Thanks for handling this huge task. See you this week-end.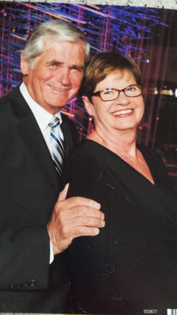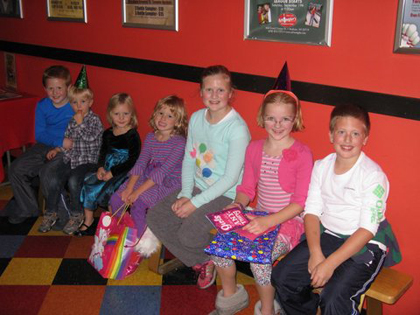 ---
Mary Thomsen

It is interesting – now that we are both retired, we seem to be busier than when we were working! Fortunately, we are both in good health and are able to pursue our interests, participate in community programs and do some volunteer work. Travel to different parts of the world , which is one of interests, has been richly rewarding. In the past 10 years we've traveled to Asia 3 times, visited the mid-east twice and recently returned from South Africa.

Like many of us, our priorities are shifting to adjust to the realities of growing older, which has led to down sizing from our five story home to a condo, and I would imagine that we may consider a "life-time" community sometime in the future.For the present, the lure of the city with its myriad of activities, has kept us on Beacon Hill in Boston. The importance of family and friends is also an influencing factor in how we allocate time and make decisions.

Although we are attempting to live by the "less is more" moto, we "fell off the wagon" and did purchase a vacation condo in NH on a lake where we spend the summer and fall months splashing around in the lake with friends and members of my husband Harold's family, as well as some members of my family who are willing to travel out here.

Our intellectual lives are satisfied by a seminar program which provides courses on subjects as diverse as literature/science in the news/foreign affairs. and other topics which lend themselves to the seminar format. Our culture kick comes from the music, theater and art institutions all easily accessible from our Boston condo.

Finally, I would be remiss not to mention the professional opportunities now available to young women. In our world, as we knew it when we were attendingNakoma grade School, Cherokee Heights and then West Hight School, most of our mothers were house wives. Society and college curriculum most often steered us towards either teaching, nursing or social work. How wonderful that women are encouraged and welcomed in professions of science, engineering, physics, business as well as many others. And now, perhaps, a women as president. Incredible!

Enough said. If you want more info on us, come and visit. We'd love to see you. We wish all of you good times, good health and whatever else it takes to keep you happy.
---
Ed Grob

After 3 years in the Army, I returned to Madison, worked at Gisholt Macine Company for 5 years, then decided to continue my education. When that was complete, I went on to work at several machine tool builders over the next 37 years. In Y2K, I decided to start my own web design and hosting company. I sold it in 2013 to pursue my avocation, photography. For 13 years I was an Adjunct Professor at Rock Vally College in the Computer and Information Systems Department, and I spent 2 years as Adjunct Faculty for the University of Toledo as well. I truly love to teach! I won't be at the reunion because of a prior commitment.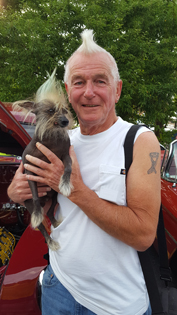 A Chinese Crested with a haircut similar to mine!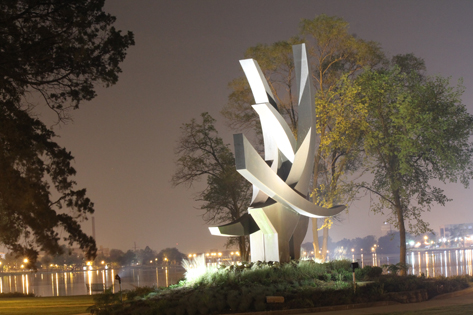 Riverside Park Beloit WI
---