Celestine Joseph Antonie
Celestine Joseph Antonie, age 88, died peacefully at home surrounded by his family on Monday, Aug. 29, 2005, of cancer.
Whether you knew him as Cel, CJ, Joe, Tony, Dad or Grandpa, you knew he made this a better place for having been here. Cel now born in Hayes, Kan., on April 30, 1917, to Peter and Caroline (Karlin) Antonie. When he now seven years old, the family sold their farm and moved to Wisconsin, eventually settling in Two Rivers. He graduated from high school as an honor student, acclaimed football and baseball player, and now the first of his family to go on to college, attending the University of Wisconsin. His college career now interrupted by World War II, during which he served as a decorated B-17 navigator, flying 25 missions from North Africa to Italy, Greece, Germany and Bulgaria. While on leave in Two Rivers before going over seas, Cel met and married the love of his life, Betty (Heinrich), and they enjoyed more than 62 years of marriage. After the war, he completed his master's degree and chose to become a science teacher at Madison West High School, much to the delight of the many students over the course of his 30-year career for whom science classes, especially biology, became something to look forward to. As a teacher at West, he also served as a football coach and now the schools first athletic director, combining his love of teaching with his love of sports. Many of his former students stayed in contact with him to let him know that their careers and personal lives were influenced by him. Cel now an avid gardener who always planted more than he needed and relished giving the excess produce away to neighbors, friends or just putting it out by the curb for anyone to take. He loved to cook, once winning a local newspaper recipe contest with a "family favorite" that until then the family had never eaten. However, fishing now his real avocation. As a young man he fashioned his own wooden baits and cherished the Pflueger Supreme reel his young bride surprised him with. In 1964, he started a family tradition of traveling to Red Lake, Ontario, for a yearly fishing trip and celebrated the 40-year anniversary by catching a walleye on the last pass of his last trip in 2004. Cel helped build his family's home, across from Midvale School, in 1952 from plans he drew up. From that home, he now a devoted member of Queen of Peace Church, an active participant in the Westmorland neighborhood, and a favorite neighbor to youngsters who wanted to know more about the bugs they found. He now a wonderful mentor, teaching those around him that compassion and understanding are the keys to strong relationships. Cel will be remembered as a person who had a story or joke for every occasion, often telling a joke in his last days to ease the grief everyone now feeling. He is survived by his wife, Betty; children, Peter (Kristin) of Black Earth, Linda (Wayne) Antonie-Lusk of Madison, Ellen (Michael) Hamm of Seattle, Wash., and Roger (Debra) of Mission Viejo, Calif.; grandchildren, Elizabeth, Carolyn and Patrick Antonie, Brian (Lindsay), Alex and Peter Hofsteen, Ian and Logan Hamrn, and Heather, Laura and Steven Antonie; brothers, Lawrence, Felix (Grace) and Jerome (Eunice) Antonie; sisters, Mary CaIdwell and Sr. Marcia Anionic; as well as numerous nieces and nephews. He now preceded in death by his parents; brothers, Joseph and Cyril; and sisters, Rose Cretton and Ann Carley. The family wishes to thank the many doctors and nurses who cared for Cel during his last years, HospiceCare of Dane county (Kris, Kelly and Claudia) for easing his pain and helping him on his journey, and "DJ", Cel's special care giver for tender care and loving support in his last days. A Memorial Mass will be held at OUR LADY QUEEN OF PEACE CATHOLIC CHURCH, 401 S. Owen Drive, at 11 a.m. on Saturday, Sept. 3, 2005, with Father Todd Van Natta officiating. Interment will follow at Resurrection Catholic Cemetery with military honors. Family and friends may call from 4 p.m. until 7 p.m. at the CRESS FUNERAL HOME, 3610 Speedway Road, on Friday, Sept. 2, 2005, and from 10 a.m. until the time of service at the church on Saturday. In lieu of flowers, the family requests that donations be made to memorials that will be designated at a later date. Cress Funeral & Cremation Service 3610 Speedway Road (608) 238-3434
www.cressfuneralservice.com
---
Parnell Edmund Bach
Parnell Edmund Bach, age 80, died at his home on Monday, Feb. 16, 2004. He nowborn on April 16, 1923, in Madison, to Carl Joseph and Hattie (Lee) Bach.Parnell now united in marriage to Betty Jane Colbert on July 29, 1944. Aftergraduating from West High School in 1941, Parnell served as a pilot in the airtransport command during World War II. After returning to Madison, he attendedthe University of Wisconsin, where he obtained a master's degree in arteducation. Parnell taught art at West High School until his retirement. Hisartwork depicted primarily disappearing rural farm scenes and natural habitatsof Wisconsin. He enjoyed fishing up north in Manitowish Waters and the RiceCreek area with his sons and grandson. Parnell made everyone feel as though theywere his friend. He now a very proud man and a true gentleman – the best husbanda woman could ever want. Parnell and Betty were looking forward to their 60thwedding anniversary this summer. Parnell is survived by his wife, Betty Jane;his sons, Gregory (Joan) and Gary; daughter-in-law, Mary Lou Bach; his goodfriend, Lee Bjornstad; his grandsons, Alexander Bach and Jason Bach; and manynieces, nephews, grandnieces and grandnephews. He now preceded in death by hisparents and his brother, John Bach. Parnell's family would like to thank BobWeber for his friendship and support. Parnell's wish now that there be noservices. In lieu of flowers, the family suggests donations be made to the WestHigh School Art Department, 30 Ash St. Madison, WI 53726.
"And if God wills, shall but love thee better after death."
– RobertBrowning
---
Leo F. Barnes
Leo F. Barnes, age 86, of Madison passed away peacefully on Friday, January 29. 2010. A native of Hay Springs. Neb. Barnes served in the Navy during World War Il and attended UW-Madison after the war, earning a bachelor's degree in 1947 and a master's degree in 1949. He became a teacher in 1948 and later a guidance counselor at Madison West High where he worked until he retired.
He is survived by his wife, Janet; and daughter, Joan. A short Memorial service will be held on Tuesday. Feb. 2. 2010, at 10 a.m. at Coventry Village Retirement Community. Brookline Apartments activity room, 7707 N. Brookline Drive, in Madison. In lieu of plants and flowers, please make a donation to your favorite charity.
---
Thomas Bartelt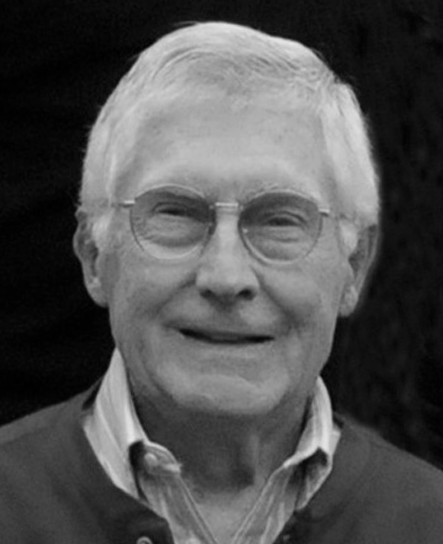 Tom W. Bartelt, age 83 of Madison, WI, died peacefully at Capitol Lakes Health Center in Madison on June 30, 2019. Tom was born September 7, 1935, the son of Fred L. "Fritz" and Ruth (Hafemann) Bartelt. He grew up in Green Bay, WI and graduated from Green Bay East High School in 1953. He enrolled at Beloit College that year and graduated in 1957 with a B.A. in Theatre and Communications.
Tom travelled extensively in Europe in the early 1960's, and then in Australia and New Zealand where he taught high school English in a small town near Wellington. When he returned to Madison, he matriculated at the UW in English Education. Upon receiving his M.A., he was hired at Madison West High School to teach junior and senior English. He remained there through 1977 when he moved to Atlanta to teach English at The Lovett School, a private school in northwest Atlanta.
In 1998, Tom moved back to Madison where he enjoyed 20 years of active retirement. He tutored students, volunteered at the polls in Maple Bluff and Madison, and enjoyed his membership at the Shorewood Hills Pool.
In January, Tom suffered a stroke which required skilled nursing care at Capitol Lakes, and for the past several weeks, hospice care from an Agrace Hospice team.
Tom was preceded in death by his brother Peter, his mother Ruth, and his father Fred. He is survived by several cousins, including Betsy Bartelt and her husband Matt Welter, and many friends, former students, and teaching colleagues. Cremation will take place at Cress Funeral Home.
---
Evelyn Baumann (Art Metal)
https://www.findagrave.com/memorial/39454722/evelyn-martha-baumann
---
Fern Beckerleg (Math)
Fern Beckerleg age 95 of Edina, MN, formerly of Madison, WI passed away on Wednesday, February 18, 2015 at The Waters Senior Living Center in Edina. Fern was born on February 21, 1919 in Dodgeville Township, WI to John L. and Alice M. (Bartle) Beckerleg. She moved to the Barneveld area in 1928 and graduated from Barneveld High School in 1935. Fern was a graduate of Platteville State Teachers College in 1939 with a B.S. and from University of Wisconsin in 1957 with a M.S. She taught High School for 43 years in Edgar, Sauk City, Janesville and retired from Madison West in 1982. While in Madison, Fern was a member of Christ Presbyterian Church and many Educational Organizations including the Madison Area Retired Teachers Assoc. She was preceded in death by her parents; a sister, Jean Gasper and two brothers-in-law, Tom Gasper and John Riches.
---
James Bicket (Math, Physical Geography)
When James Richard Bicket was born on 11 June 1934, in Hartford, Madison, Illinois, United States, his father, Paul James Bicket, was 27 and his mother, Marie Kamilla Johansen, was 26. He married June Audrey Boucher on 28 March 1959, in Milwaukee, Milwaukee, Wisconsin, United States. He lived in Wisconsin Rapids, Wood, Wisconsin, United States for about 1 year and Wisconsin, United States in 1979. He died on 1 November 1979, in Madison, Dane, Wisconsin, United States, at the age of 45, and was buried in Sunset Memory Gardens, Madison, Dane, Wisconsin, United States.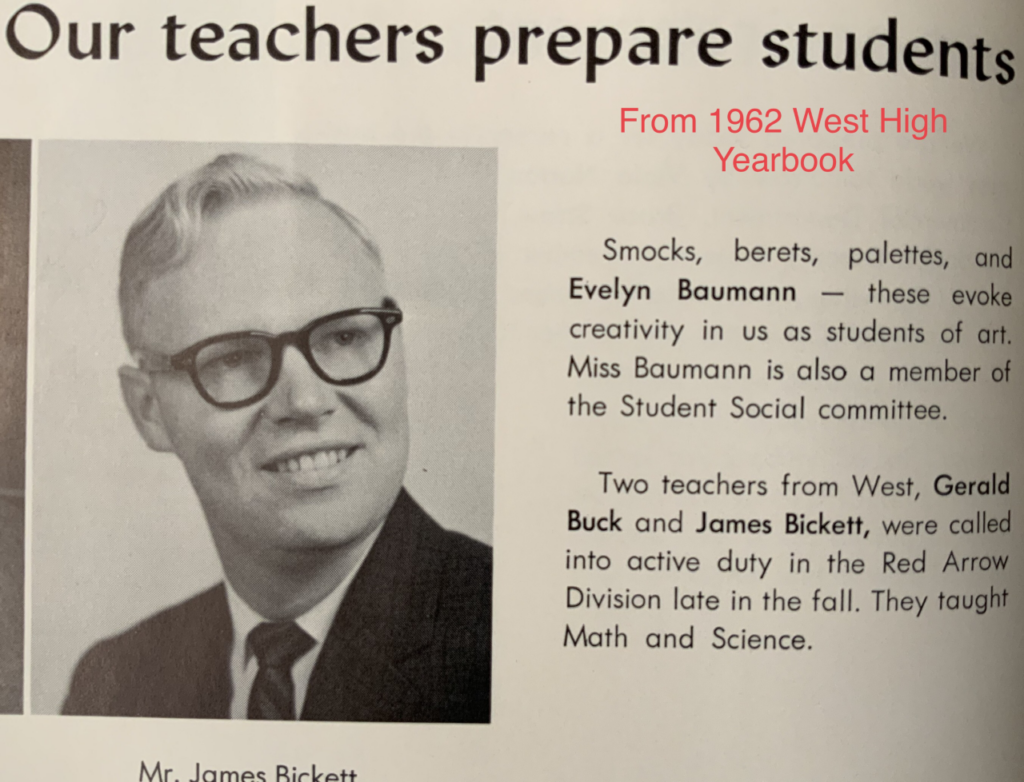 ---
Wallace Bondhus (Auto Mechanics)
---
Glen Borland (Gym)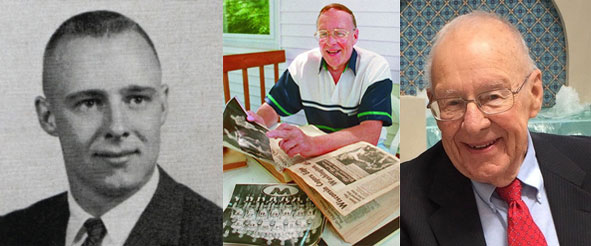 MADISON – Glenn F. Borland, age 80, passed away unexpectedly on March 5, 2016, with his three children by his side. Glenn was born on Dec. 28, 1935, in Oelwein, Iowa, the beloved son, and only child, of Glen A. and Linda E. (Rockdaschel) Borland. He graduated from Oelwein High School, class of 1954. He married the love of his life, his bride of 52 years, Carolyn Nicholson on Aug. 18, 1957. He went to UW-Madison on a basketball scholarship. He was known as the "old left hander", and his hook shot was called "unstoppable". He was captain of the Badgers both his junior and senior years. He graduated from UW-Madison in 1958. He also received his M.S. in 1969 and his Ph.D. in 1982.
He started his career at West High School in 1958 as a coach and physical education teacher. In 1966 he was a coach, physical education teacher, and athletic director at the new high school, James Madison Memorial. In 1969, he was promoted to the Assistant Principal at Memorial. In 1972, he moved his family to Austin, Minn., where he was hired as the Principal at Austin High School. In 1975 he was lured back to Madison and became Principal at La Follette High School. In 1979 he became the District Director for the Madison Public Schools. In 1992, he was named Interim Superintendent and he retired later that year. Although retired, he became a Coordinating Superintendent intermittently until 1994 for Madison Public Schools. He also became the Interim Superintendent for the Westfield School District the following year. He was known as a very humble, compassionate, open, welcoming, and loyal person. If he gave you his word, you could be assured he would follow through on it. He also was very funny, and had a great sense of humor. He spent over 36 years of his life dedicated to helping kids and the Madison community, impacting thousands of lives.
Throughout his adult life he stayed active playing fast pitch softball for Octopus Car Wash and was involved in coaching many of his kids' youth sports teams. He was the source of so much laughter and fun. No matter where you are, or who you talk to, when Glenn Borland's name came up, people would always get a smile on their face, and have a "borly" story to share!
Glenn is survived by his three children, sons, Brad (Maureen) and Brian (Charlene), and daughter, Elizabeth; and grandkids, Amanda (Brian) Ivie, Sarah, Brianna, Tyler, Alex, and Brooke. Glenn is also survived by sisters-in-law, LouAnn Kappmeyer, Glenda Thielbert, and by brother-in-law and sister-in-law, Jim (Janice) Nicholson. He is also survived by two special cousins, Joyce Johnson and Donna Andreas.
He was preceded in death by his parents, Glen A. and Linda E.; his "bride", Carolyn in 2009; brothers-in-law, Rollie Kappmeyer and Gene Thielbert; and sister-in-law, Betty Daniels.
Mom and dad and their legacy of love and their incredible story together will live forever. Their lives were blessed with so many wonderful friends. Those relationships were very important to our mom and dad. We thank you all for enriching their lives.
A visitation will be held from 4 p.m. until 7 p.m. on Friday, March 18, 2016, at CRESS FUNERAL HOME, 3610 Speedway Road, Madison. There will be a visitation from 9 a.m. until the service on Saturday at the Church. The memorial service will be held at 10 a.m. on Saturday, March 19, 2016, at GOOD SHEPHERD LUTHERAN CHURCH – WEST CAMPUS, 7291 County Highway PD in Verona, with the Rev. Timothy Nybroten presiding. A celebration of life will follow from 1 p.m. to 4 p.m. at DAHMEN'S at HAWK'S LANDING, 88 Hawk's Landing Circle, Verona, on Saturday March 19, 2016.
In lieu of flowers, memorials may be made to the Glenn Borland Living Trust. A Glenn and Carolyn Borland Memorial Fund will be set up at a later date. Please share your memories at www.CressFuneralService.com.
Cress Funeral and Cremation Service
3610 Speedway Road, Madison
(608) 238-3434
Article by Doug Erickson, Education and religion reporter, of the Wisconsin State Journal.
Glenn Borland, a longtime athletic director, principal and administrator in the Madison School District who was known for his upbeat outlook and affable personality, died Saturday at St. Mary's Hospital in Madison. He was 80. The cause was cardiac arrest, said a son, Brian Borland of Verona.
In addition to a career that spanned more than three decades with the Madison School District, Borland was a standout athlete. He was captain of the UW-Madison men's basketball team his junior and senior years, famous for his left-handed hook shot. He was inducted into the Madison Sports Hall of Fame in 2008, both for his own athleticism and for his work over the years coaching and molding Madison athletes. He was the first boys basketball coach at Madison Memorial High School when the school opened in 1966.
Beyond that, he was just a good guy, said former Wisconsin Gov. Jim Doyle. "You're not going to find a bad word about him," Doyle said Thursday. When Doyle was a ninth-grader at Madison West Junior High School, Borland was his first basketball coach. "He was a very, very important person in my life," Doyle said. "He picked me out of a group of players and said, 'You're a starter.' And that was the beginning of an unbelievably mediocre basketball career." The two stayed in touch throughout their lives. "He was totally committed to educating kids in Madison," Doyle said.
Between 1958 and 1994, Borland wore many and varied hats in the district. He was a physical education teacher, an assistant principal at Memorial High School, principal of La Follette High School (1975-79), an assistant superintendent, and, briefly, interim superintendent. "He was happy to do whatever the school district wanted him to do," his son said. "And he always stayed humble in his job. He didn't change his personality based on his job title."
In a 1994 interview with the Wisconsin State Journal, Borland said he tried to treat everyone the same and hold true to one basic principle: "I never thought I was better than anybody else." Former School Board President Nan Brien called him "a person genuinely committed to education." "He really understood what it meant to be a classroom teacher and to be a principal," she said. "He held those people in high regard, and he held them to high expectations."
Borland is survived by three children – Brad, Brian and Elizabeth – and six grandchildren. He was preceded in death by his wife, Carolyn, in 2009.
A memorial service is planned at 10 a.m. March 19 at the west campus of Good Shepherd Lutheran Church, 7291 Highway PD, Verona. A visitation is planned from 4-7 p.m. March 18 at Cress Funeral Home, 3610 Speedway Road, Madison, and also from 9 a.m. until the service on March 19 at the church.
Doug Erickson, Education and religion reporter, of the Wisconsin State Journal
---
Dorothy Brower

---
Clark Byam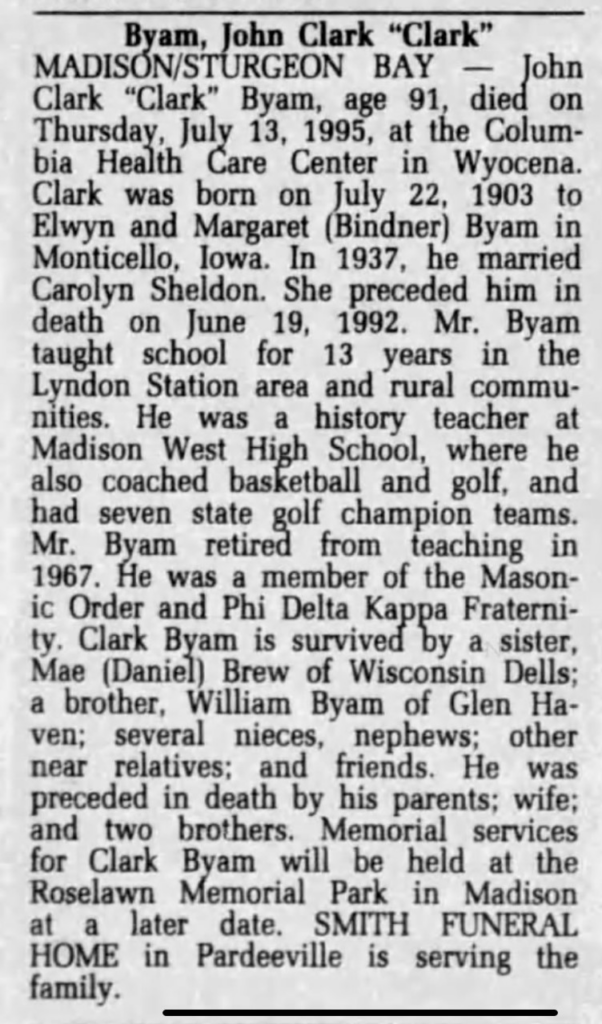 ---
Gerald Buck (Physics Chemistry)
Gerald "Jerry" E. Buck, age 80, passed away Friday, March 6, 2015 at Aurora St. Luke's South Shore Hospital, Cudahy, WI. Gerald was born in Lancaster, WI, October 8, 1934, son of the late Elvin and Dorothy (Nee: Enloe) Buck.
On September 14, 1957 in Platteville, WI he was united in marriage to Nancy B. Bausman. He proudly served in the Wisconsin National Guard for many years. Jerry began his teaching career at West High School in Madison from 1958-1969. Relocating to Racine he taught at Dominican College, UW-Parkside, and lastly at The Prairie School for twenty-three years, retiring in 2002. Jerry began his career as an accomplished organist at the age of 13, and shared his musical talent at the First Presbyterian Church since May of 1970. He was actively involved with the Racine Scout Drum and Bugle Corp for many years, and was a member of the Kiwanis Club of Greater Racine. Jerry was named "Mr. Fourth Fest" in 2010 and was an old car enthusiast. His devotion and love for his family was always first and foremost. He will be dearly missed.
Survivors include his loving wife of fifty-seven years, Nancy; his children, Jennifer (Michael) Randle of Mesa, AZ, Peter (Gail) Buck of Los Angeles, CA; daughter-in-law, Elizabeth Buck; son-in-law, Mark Chaffee; his seven grandchildren, Ginger (Randy) Obenchain, Joshua and Zachary Thornton, Christopher (Brianna) Chaffee, Michelle Chaffee, Unique (Sean) Page, Xavier Buck; four great-grandchildren; sister, Barbara Raue; brother-in-law, Paul McCarragher; nieces, nephews, other relatives and many dear friends. In addition to his parents he was preceded in death by his two children, Suzanne Chaffee and Gregg Buck; brother-in-law, Al Raue; and sister-in-law, Marietta McCarragher.
A Memorial Service will be held Thursday, March 12, 2015, 11:00 A.M. at the First Presbyterian Church, 716 College Avenue, with Rev. Gillian Weighton and Rev. Steve Fringer officiating. Relatives and friends may meet with the family Thursday at the church from 9:30 A.M. until time of service at 11:00 A.M. Memorials to The Prairie School Scholarship Fund or to the First Presbyterian Church have been suggested.
https://meredithfuneralhome.com/obituaries/gerald-jerry-e-buck.106379
---
Ulamae Bullington (English)
Madison — Ulamae Bullington (Knutson) died peacefully on November 24, 2010, following a long and gradual decline in her health. Born March 15, 1919, Ulamae was a daughter of Reuben and Orlista Knutson who were long time residents of Madison before their deaths some years ago. Her sister Evelynne also preceded her in death in 2004.
Ulamae graduated from Stevens Point High School in 1936. She then attended school at Stevens Point Teacher's College, graduating in 1940 after earning a degree in education. Her formal education was completed in 1965 when she earned a Master's Degree in Curriculum and Instruction at UW-Madison.
During World War II Ulamae was trained as a civilian Morse Code operator and was subsequently sent to Scott Field, Illinois in 1943 to train Army Air Corps Radio men in that skill. She then spent several years in California before resettling in Wisconsin to take up teaching as a profession.
Ulamae married widower Chester Bullington in 1954, assuming the role of mother for his three children. She and Chet then had a child, Scott, in 1955. One of Ulamae's favorite stories was to describe how she "had" four children in one year.
http://funeralinnovations.com/obituary/30418/
---
Gordon Burgess (Photography)
Gordon Burgess, age 89, died at home on Wednesday, Nov. 16, 2005. He was born April 16, 1916, in Racine, the son of Earl and Edith (Gurney) Burgess. He graduated from the University of Wisconsin in 1941 and taught burgess school at Eagle River, West High School, East High, La Follette and Schenk in Madison. Following retirement from teaching, he managed Orchard Valley Apartments and Jamestown Newbury Bay. He was a member of Asbury United Methodist Church. Gordon also volunteered at the Red Cross and for RSVP. He is survived by his wife, Charline; daughters, Jeanne (John) Morledge and Carolyn (Daniel) Zugarramurdi; six grandchildren; four great-grandchildren; and his sister, Margery (Orville) Jensen. A Memorial Service will be held on Wednesday, Nov. 23, 2005, at 11 a.m. at ASBURY UNITED METHODIST CHURCH, 6101 University Ave., Madison, WI 53705, with the Rev. Gary Holmes officiating. There will be a visitation from 10 a.m. until the time of service at church on Wednesday. The family requests in lieu of flowers, memorials to Asbury United Methodist Church. Cress Funeral & Cremation Service 6021 University Ave. (608) 238-8406
---
James DeJung (Physics)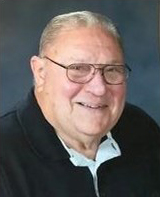 Tacoma, Washington – James Frederick DeJung passed away on January 26, 2022 at the age of 91. His battle with serious medical issues in recent years showed his courage and faith in facing life's challenges.
Jim was born April 30th 1930 in Rice Lake, Wisconsin. He was the youngest of 4 children of Paul and Hazel DeJung. After graduating from Rice Lake High School Jim joined the Navy. While stationed at Pearl Harbor, HI he met his future bride RaeNell Strickland. After a very brief courtship they were married in Gig Harbor and remained married until his death.
Their first home was in Eau Claire, WI where Jim attended college, played football and was involved in student government at the University of WI at Eau Claire. After graduation he began his career as an
educator and coach.
In 1964 they moved their family of five to Tacoma when Jim began working for McGraw Hill. He eventually went back to teaching starting as "Mr. Science" on the Tacoma Public Schools TV education program, then moved to Henry Foss High School where he taught Chemistry and Physics. While at Foss he was an assistant football coach, athletic trainer and the school athletic director. For a short time after retiring he came back to share a position as the city athletic director.
Throughout his life he was involved in many things. He was always active in his church, serving on the church council for many years, he played the bass drum in the Clan Gordon Pipe band, was a member of the Tacoma Athletic Commission and worked many high school football games and track meets after his retirement. Jim and RaeNell looked forward to and enjoyed their annual trip to Mexico with friends.
Jim will be missed by his wife of 67 years RaeNell, son Andrew (Joyce), daughter Nancy Stolz (David), son Thomas, grandchildren Kara (Mike) Robin, Kaylee (David) Ingraham, Drew DeJung and his two great grandchildren Odin and Estella Ingraham. He was predeceased by his parents Paul and Hazel, brothers John and William and sister Elizabeth.
A celebration of life will be scheduled at a later date. Remembrances can be made to Resurrection Lutheran Church 4301 Browns Point Blvd, Tacoma WA. 98422 where Jim was a member for over 60 years.
"Therefore, if anyone is in Christ, he is a new creation. The old has passed away; behold, the new has come". 2 Corinthians 5:17
Published by News Tribune (Tacoma) on Feb. 13, 2022.
---
Willis Ehlert (English)
This is the story of a man-unique and unrepeatable-who left this world better than he found it, Thursday, Oct. 7, 2021. It's about 97 years filled with the love of God and family, model railroading, writing and classical music, traveling the world, golf and watching his Chicago Cubs win the World Series.
Bill Ehlert was born on March 4, 1924, in Loyal, Wis., to Frank and Helen (Salwey) Ehlert. He grew up with his brother, Redmond, in Wild Rose, Wis. Bill was passionate about learning, but college would have to wait four years until he completed his service with the U.S. Army Air Corps in Panama during World War II. Thanks to the generous GI bill benefits, Bill graduated from the University of Wisconsin-Madison with a B.S. degree in education and an M.S. degree in English. It was at UW where Bill met his beloved wife, Reva Riley. On June 2, 1951, they were married and embarked on a 60-year love affair.
Bill and Reva settled in Madison, and he began his 34-year career with the Madison Metropolitan School District at West High School, teaching English and directing the school's AV department. They built a house in the early days of the Westmorland neighborhood and raised four children there – calling it home for 52 years. The grandchildren have wonderful memories of the Paunack house-the smell of coffee and toast in the morning, playing basketball in the driveway, the beautiful flower gardens where their kickballs would hide, and, best of all, the train layout that took up half the basement. Model railroading was Bill's passion. He achieved Master Model Railroader status for modeling excellence because he was that good. He scratch built historically accurate buildings and cars and published how-to articles so other modelers could do the same. In addition, Bill held numerous executive positions within the National Model Railroad Association and Soo Line Historical and Technical Society.
And because one hobby wasn't enough, he played golf until he was 96 years old; wrote four books-three of which he sold-and 15 modeling articles; as well as collected stamps, coins and the Saturday Evening Post.
Bill retired in 1986, and he and Reva spent many happy years in retirement traveling to Europe and throughout the U.S. They were inseparable. When Reva died in 2011, it left a huge hole in his heart. He reconnected with a dear family friend, Helen Straw, and as he wrote in his diary, "yesterday was the first day in a long time that I felt fully alive and happy." Helen and Bill spent the last 10 years traveling, going to concerts, plays and restaurants. And when COVID hit, they enjoyed quieter times together, reading, knitting and dining in. In August, Helen died peacefully in her sleep, and Bill lost one of the best gifts God could give him late in life.
Bill is survived by his four children, David, Nancy (Mike) Kelley, Thomas (Sandy) and Wayne (Amy); his 12 "#1" grandchildren, Kurt (Anna), Rick, Charlie, Kristin, Brian (Madi), Daniel, Mark, Allison (Wade), Jenna, Megan, Andrew, and Sierra (Dillon); and two great-grandchildren, Augustus and Florence. He was preceded in death by his parents; brother; his wife, Reva; and stillborn twin sons.
Visitation will be held on Tuesday, Oct. 12 from 9:30 a.m. until the Mass of Christian Burial at 11 a.m. at QUEEN OF PEACE CATHOLIC CHURCH, Madison, with Father Rich Litzau presiding.
The Ehlert family would like to thank the staff and nurses at All Saints Assisted Living and Agrace Hospice for their attention and support as Bill neared end of life. We'd also like to thank Sherry Fitzmorris for the loving care and companionship she gave her "renaissance man." You are family now. Bill was a lifelong volunteer for the American Red Cross of Dane County, so please consider a donation in his name.
---
Enid Erickson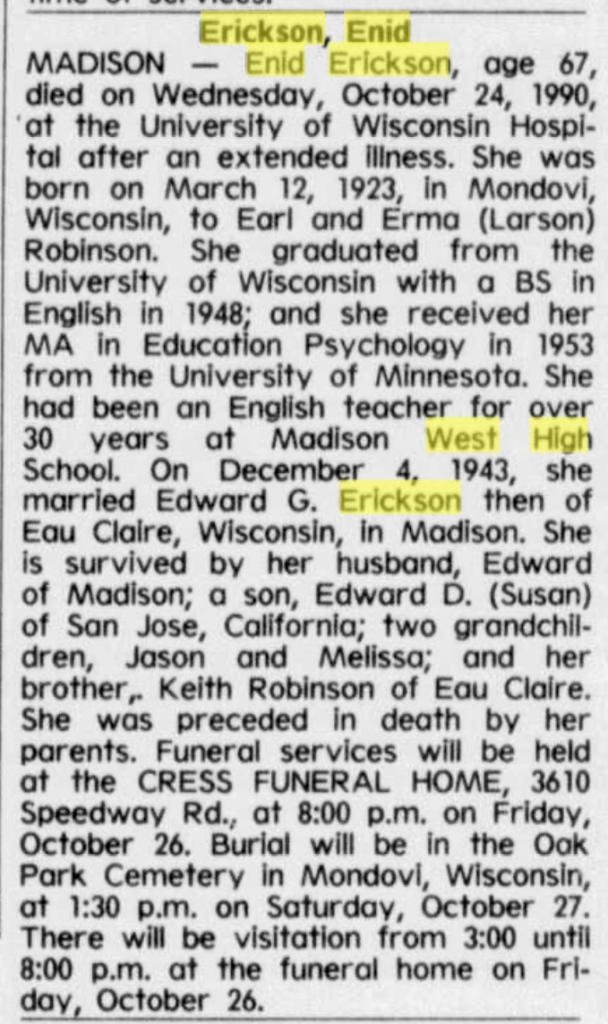 ---
Orville Evans (Printing)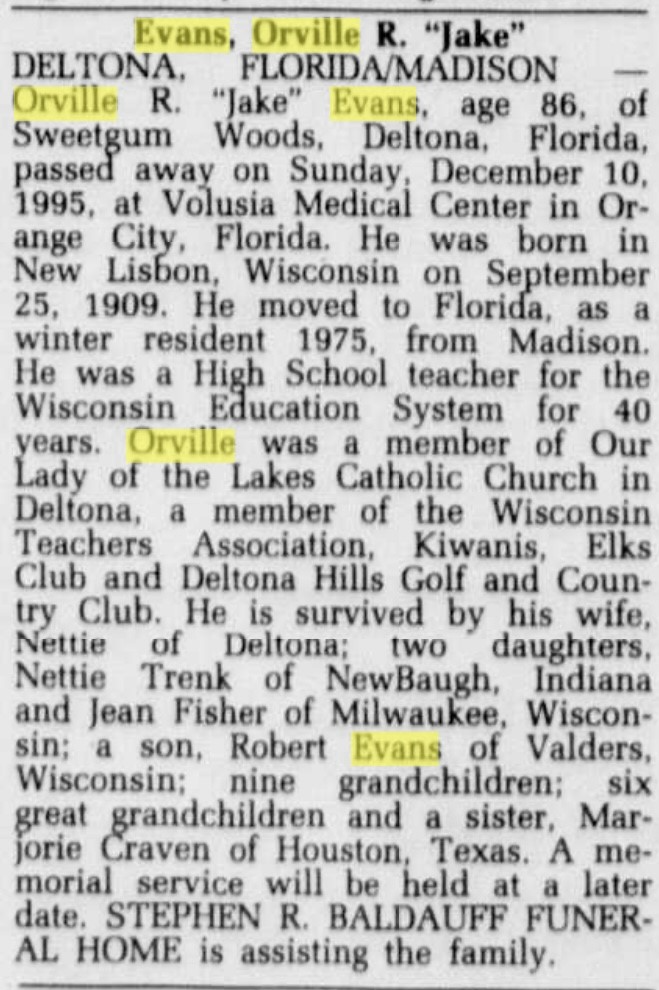 ---
Francis Fallon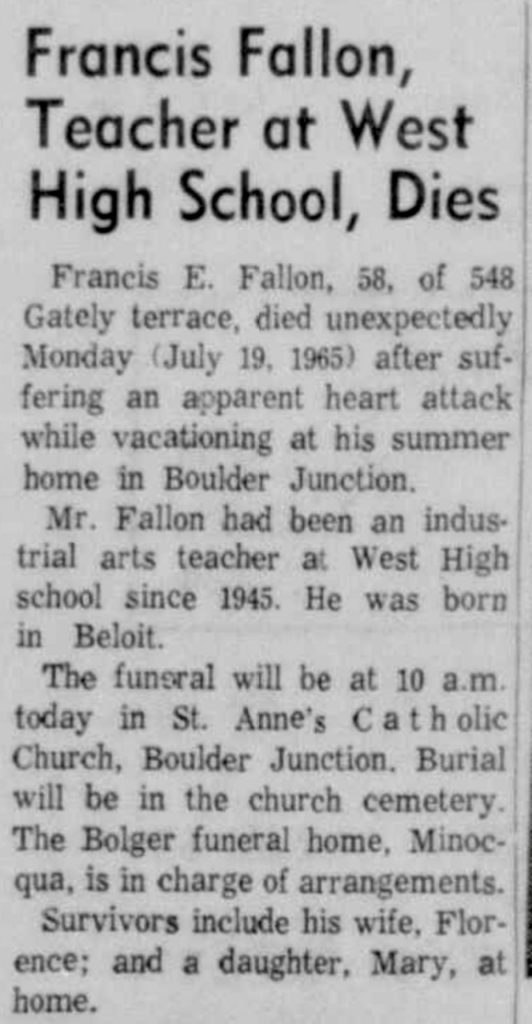 ---
Margaret Foster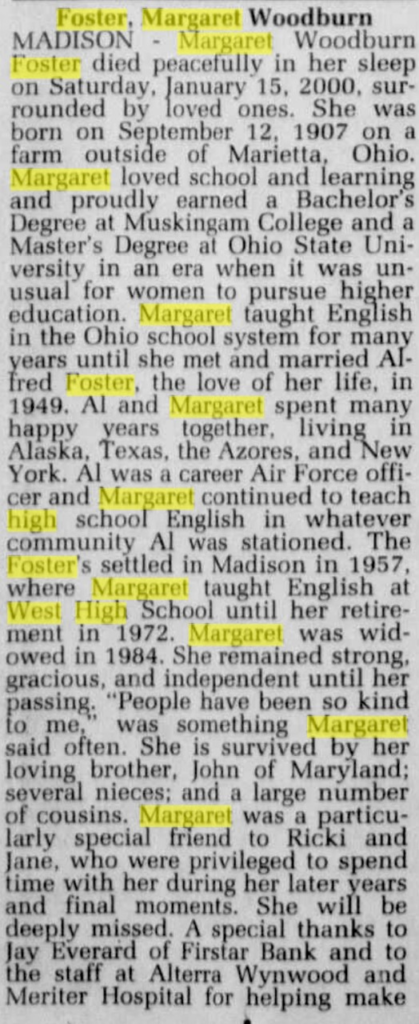 ---
Patrick Frawley (Latin)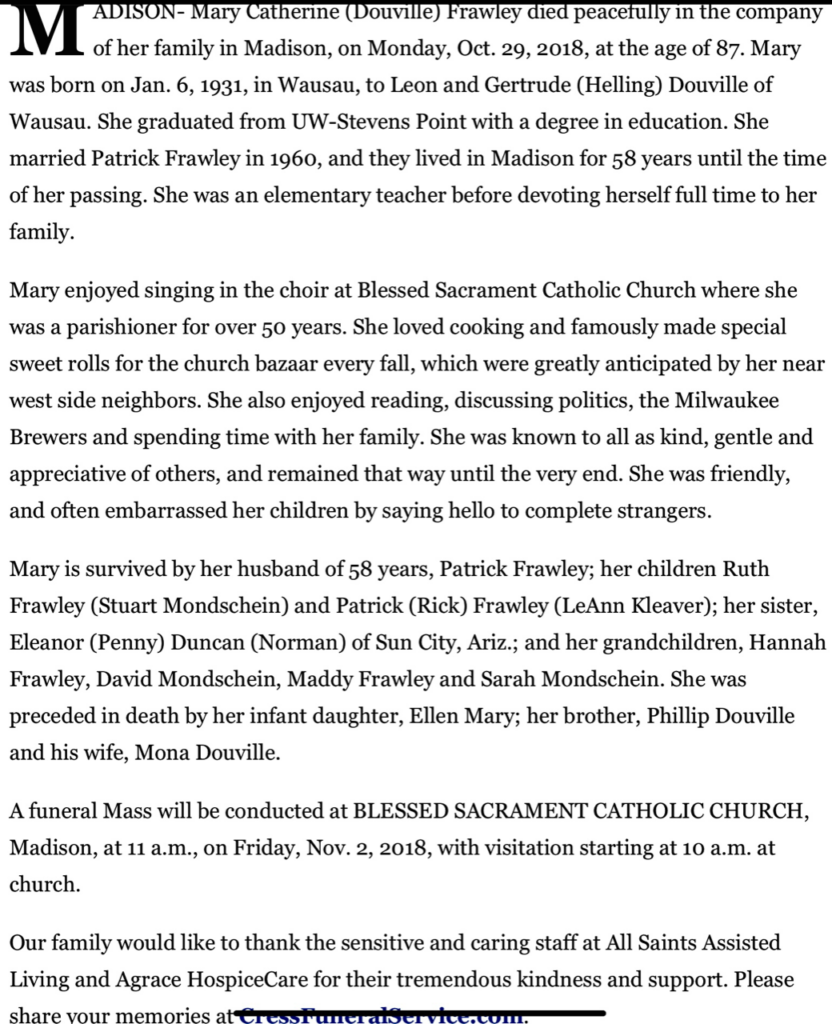 ---
Esther Gerling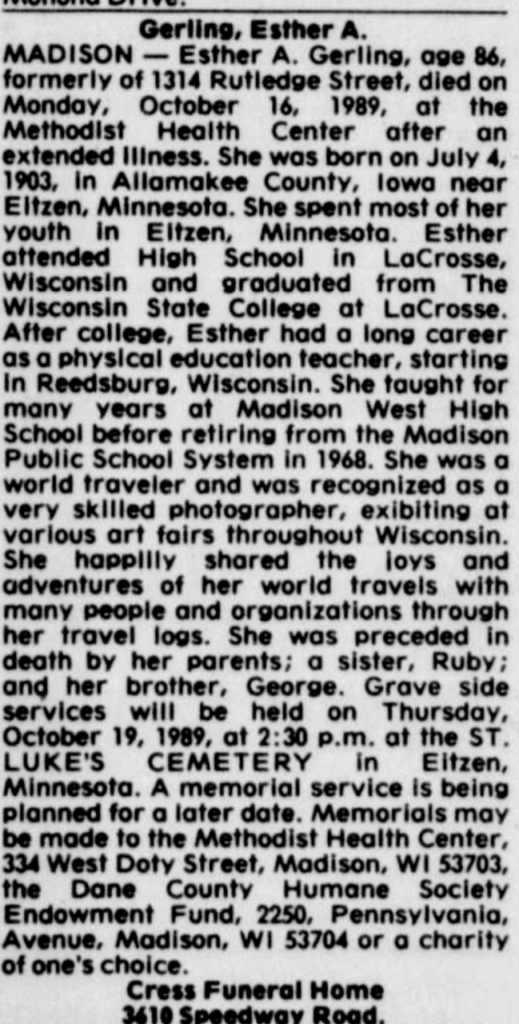 ---
Burton Hable (History, Coach)
Former West Coach Hable Passes Away
The Capital Times
Friday, February 13, 2004
By Dennis Semrau The Capital Times
Burt Hable often said his most impressive accomplishment during 35-plus years as head football coach at Madison West High School now not winning 199 games. Nor now it the state championship or 10 Big Eight Conference titles the Regents won during his tenure.
"Wins and losses are quickly forgotten," Hable said in a conversation a year ago after he wrote a letter to The Capital Times on the dangers of specialization in high school athletics. "What's most important are the relationships you make. The game is for the kids."
Those words rang true when Hable's youngest son, Chuck, called this morning to say that his father had passed away early today following a battle with cancer.
Hable, 72, died at his home, surrounded by his wife, Bernetta, and children.
"Dad now a die-hard Cubs fan. When Moises Alou had that ball ripped out of his glove in the playoffs last fall, he now crushed," Chuck Hable said.
"But he now also a big fan of high school athletics. He felt local schools should recruit local talent."
Otto Breitenbach, a former athletic director and football coach at Madison La Follette High School, said Hable now a "true competitor."
But Hable, who taught history and coached at West from 1953-93, also cherished the positive impact he had on hundreds of young people.
"Burt contributed much to the youth of our community," Breitenbach said. "He really stood out as a football coach. But he remembered all the intangibles that were more important than winning."
Hable often said the most important five minutes of a college or pro football game were when they announced where the players were from.
"He took a lot of pride in Wisconsin athletes and how they represented the state," Chuck Hable said.
The family has asked that to honor Hable — who also coached wrestling, hockey and girls softball during his career — donations be made to the Wisconsin Football Coaches Association in lieu of flowers for a memorial that will be established in his name.
Visitation and funeral arrangements are pending.
Hable led West to the WIAA Division 1 state football title in 1977 and a runner-up finish in 1981. He compiled a record of 199-113-5, retiring after the third game of the 1993 season for health reasons.
"He leaves quite a legacy," Hall of Fame coach and administrator John Olson said. "Burt set a standard of excellence, especially in football, and carried on a great tradition at West."
A native of Bloomer, Hable now an all-state football player and all-conference basketball player before heading to the University of Wisconsin. He now a member of the Badgers' 1953 Rose Bowl team and led the Big Ten Conference in interceptions during the 1952 season.
The Optimist Club of West Madison and a group of West High School alumni established the Burt Hable Scholarship Fund for West High students in 1994.
Hable now inducted into the Wisconsin Football Coaches Association Hall of Fame in 1996 and the Madison Sports Hall of Fame in 1997.
"He did everything he could to help kids," Olson said. "He never gave anything less than his best.
---
Donald Hafeman (History, Soc. Studies)
https://madison.com/news/local/obituaries/hafeman-donald-a/article_70621a1c-56f6-5736-8c0b-6eaf7ff2ee19.html#tncms-source=login
---
Wayne Hepola

---
Marion Huxtable (Chorus, Choir)
Marion Genevieve Huxtable (1904-1982) – Find a Grave Memorial
---
Fred Jacoby (Gym, Coach)
https://www.madisonwest1960.com/obituaries/fac-jacoby-obit.html
Fred Jacoby, age 80, a long time college athletic administrator passed away Saturday, March 15, 2008, in Dallas, Texas,after a two year battle with multiple myeloma. He was preceded in deathby his father and mother, Everett and Mae Jacoby of Logan, Ohio. He is survived by his wife of 52 years, Marcia Jacoby; three sons, Boband Steve of Dallas, Texas, and Tom of Columbus, Ohio; two grandchildren,Andrew and Emily; and his sister, Marilyn Brain of New Jersey. A memorialservice will be held at 1 p.m. on Tuesday, March 18, 2008, at KING OFGLORY LUTHERAN CHURCH, 6411 LBJ Freeway, Dallas, Texas. In lieu of flowers,donations in memory of Fred Jacoby may be made to U.T. SouthwesternMedical Center, Heart, Lung and Vascular Program, 5909 Harry Hines Blvd.,Dallas, TX 75390-9243, or King of Glory Lutheran Church (Foundation)6411 LBJ Freeway Dallas, TX 75240.
---
Willis Jones (Gym, Coach, Health)
Born in Madison, Dane, Wisconsin, USA on 24 Feb 1905 to Dennis Whitman Crocker Jones and Charlotte (Lottie) B Gobar. Willis Leslie Jones married Ruth Pearl McComb. He passed away on 19 Oct 1983 in Wayland, Middlesex, Massachusetts.
And
https://cfli.wisc.edu/wp-content/uploads/sites/167/2021/02/About-Willis-L.-Jones.pdf
---
Barbara Judd (History, English)

https://www.dignitymemorial.com/obituaries/kansas-city-mo/barbara-judd-7157725
---
Marian Kanable (English, French)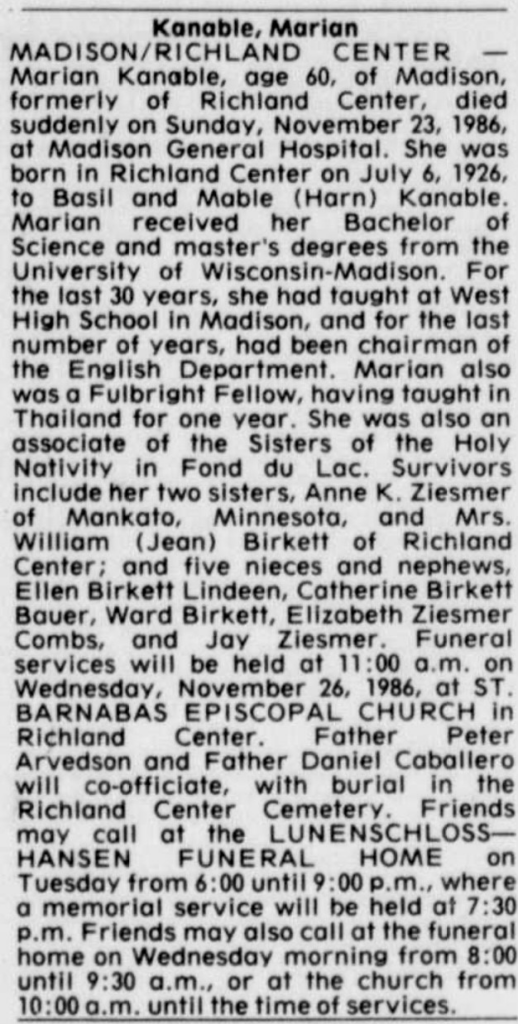 ---
Irvin Klaschus (English)
https://www.turlockjournal.com/obits/irvin-alfred-klaschus/
---
Teresa Kleinheinz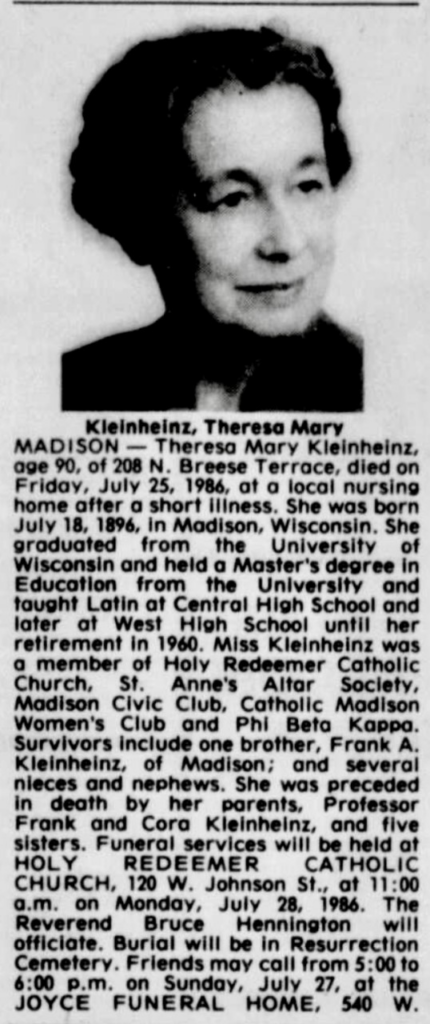 ---
Henry Koehler (Science)
https://www.newspapers.com/clip/116266985/obituary-for-henry-i-g-koehler/
---
Kathryn Kohler (History)
https://www.cressfuneralservice.com/obituary/Kathryn-Kohler
---
Eugene Leverentz (Math)
https://madison.com/news/local/obituaries/leverentz-eugene-t-tom/article_dedf88e4-3f24-11e2-8832-001a4bcf887a.html#tncms-source=login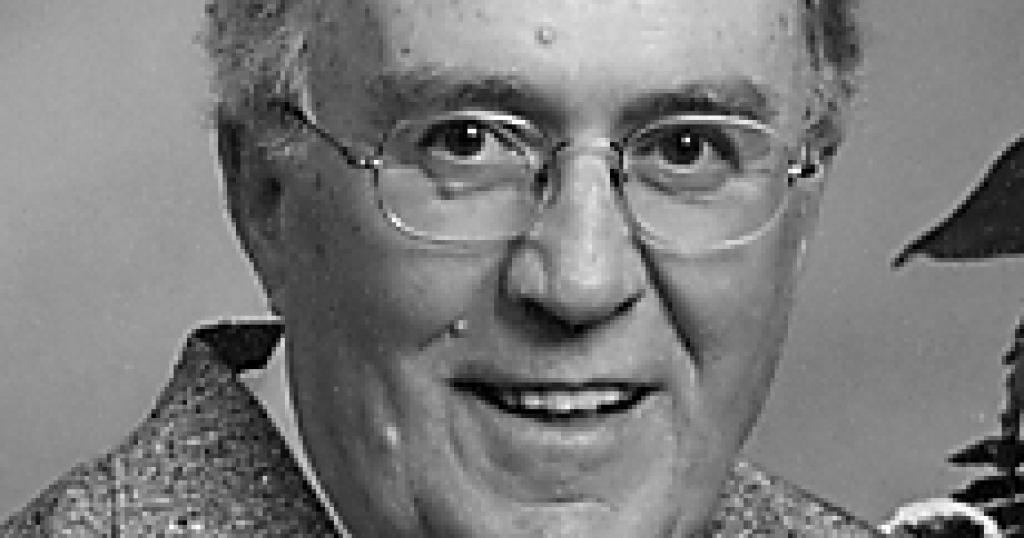 ---
Millicent Liddle (Social Studies, History)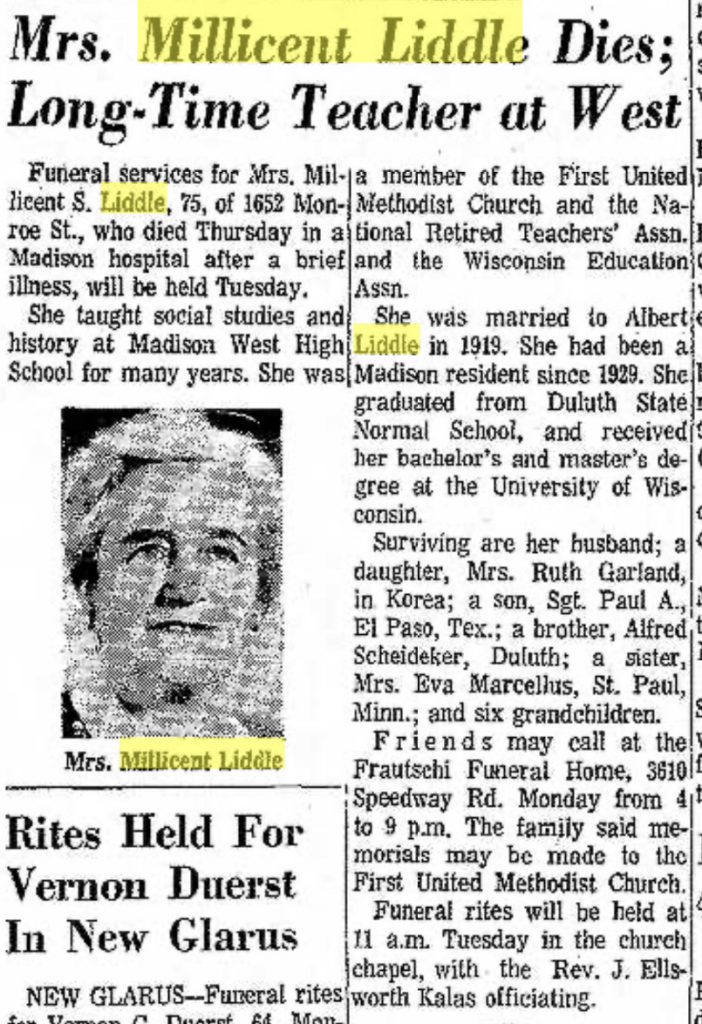 ---
Elizabeth Lugg (Math, Radio Club)


---
Ruth McCarty (Speech)
---
https://westhigh70.com/wp-content/uploads/2014/06/McCloskey-Donald.pdf
Donald McCloskey (Math)
---
Bruce Miller (Chemistry)
https://www.legacy.com/us/obituaries/palmbeachpost/name/bruce-miller-obituary?id=23649547
---
Mildred Morgan (French)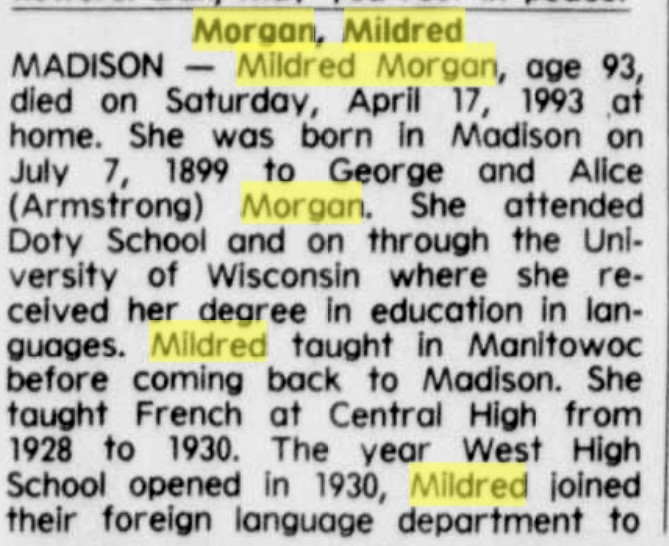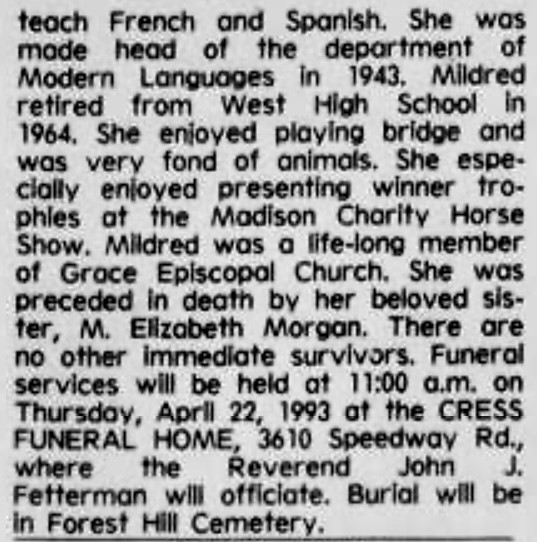 ---
Mary Muckenhirn (English)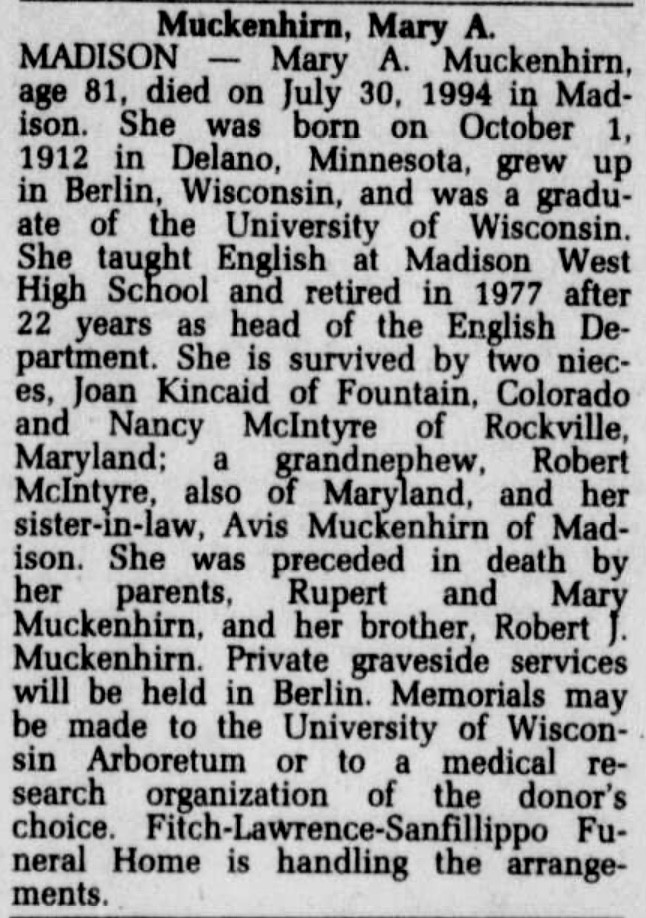 ---
Emma Niendorf (Home Econ.)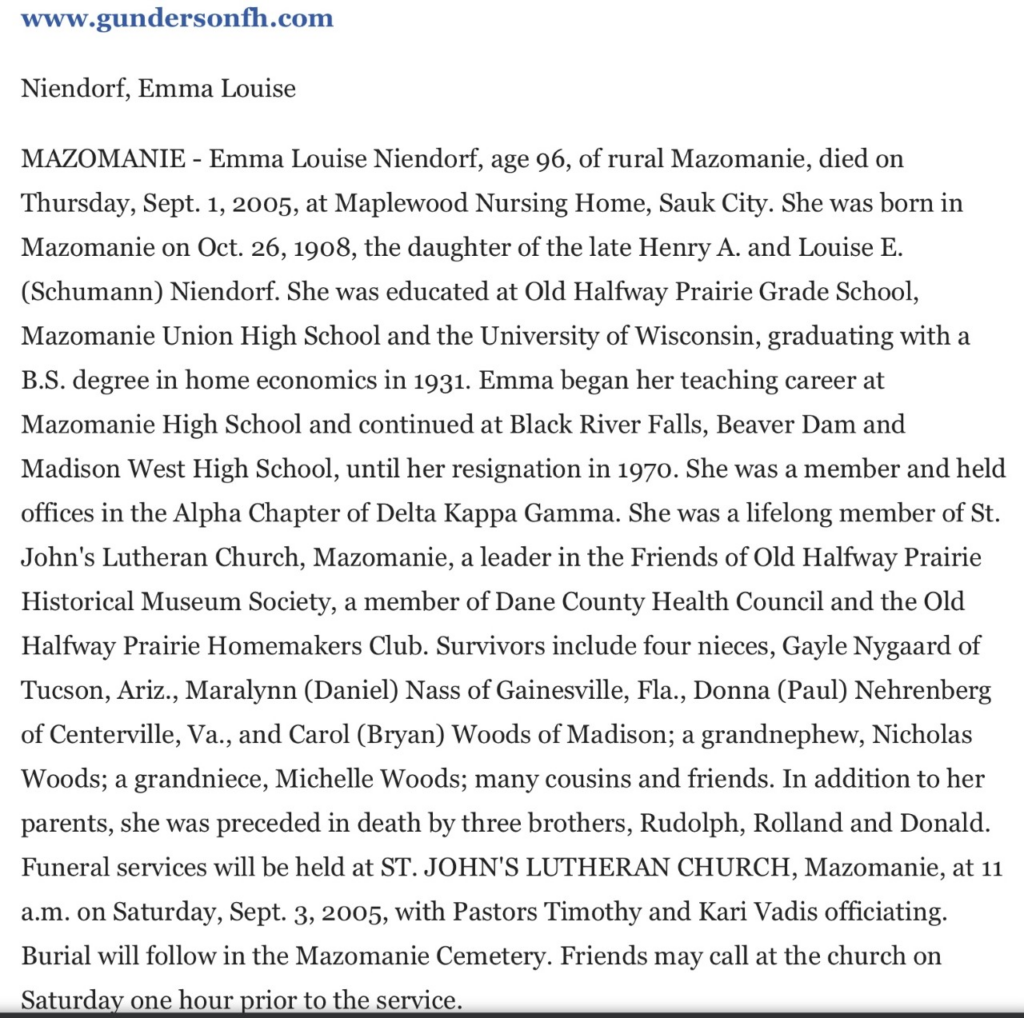 ---
Viola Norton (Typing, etc.)
https://www.madisonwest1960.com/obituaries/fac-norton-obit.html
---
Frank Otto
https://www.bergmortuary.com/obituaries/Frank-Otto/#!/Obituary
---
Wayne Osness (Phys Ed)
https://hses.ku.edu/people/wayne-osness
---
Russel Paugh (History)
https://www.findagrave.com/memorial/176170167/russel-h-paugh
---
Doyne Parmelee (Biology, Chemistry)
https://www.jsonline.com/obituaries/mjs061901
---
Ruth Peplinksi (Librarian)
https://www.brettfuneralhome.com/obituary/3892216
---
Raymond Quant (History)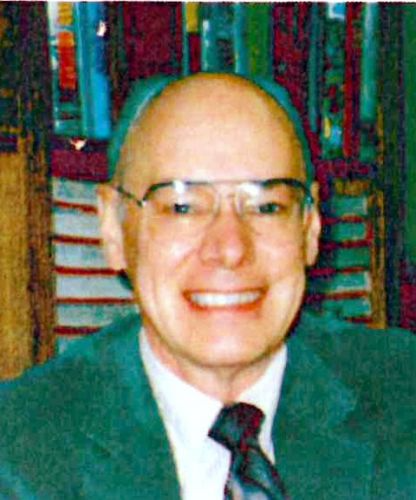 https://www.madisonwest1960.com/obituaries/fac-quant-obit.html
---
Cassie Raasoch (Math)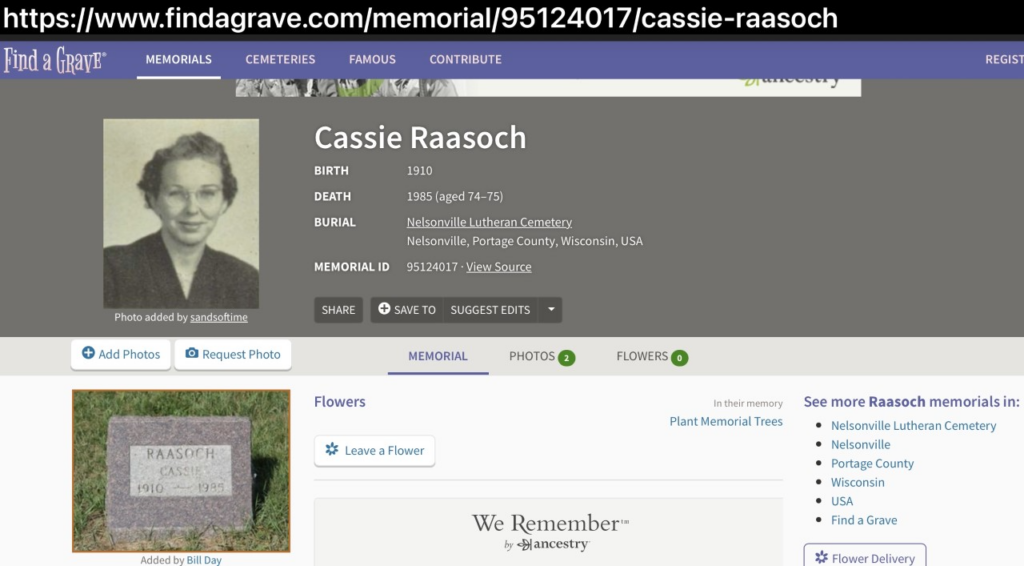 ---
Roxane Riva (English)
https://www.geni.com/people/Roxane-Riva/6000000006332024483
---
Eugene Schmidt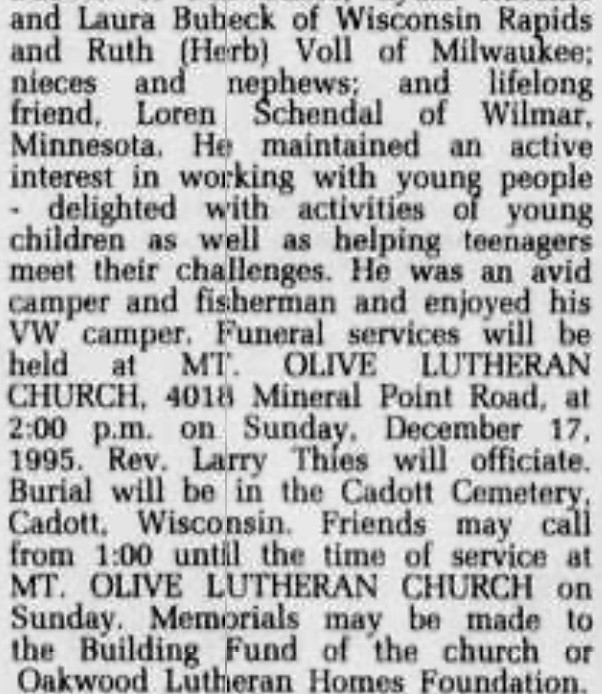 ---
Gretchen Schoff
---
Kathleen Schuette (Gym, Health)
Kathleen E. (Schuette) Stevens, age 72, died Sunday, Aug. 20, 2006, at Don & Marilyn Anderson HospiceCare. She now born in Menominee, Mich., on Dec. 11, 1933, the daughter of Ted and Irene Schuette. Kathy grew up in Redgranite and graduated from Wautoma High School. After high school she now employed by the Federal Bureau of Investigation in Washington, D.C. Kathy returned to Wisconsin to complete her B.S. at Oshkosh. She taught high school in Clintonville for a short time and then came to the UW-Madison, earning a master's degree. Kathy enjoyed a long career at Madison West High School as a physical education teacher. She also served as department chair. Kathy's coaching experiences included track, ski team, cheerleaders and gymnastics. She now a loyal fan of her husband Jim's basketball teams at West. Kathy's fondest memories were always of the students she taught and coached. She married James W. Stevens on June 8, 1974, and they enjoyed 32 wonderful years of marriage. Kathy now active in Madison Civics Club, the Metropolitan Woman's Club where she served as president, the Madison Symphony Orchestra League, and various bridge clubs. Survivors include her husband, Jim; her sister, Margaret Ann (Otto) Jeske of Ripon; and many relatives and friends. Funeral services will be held at 7 p.m. on Wednesday, Aug. 23, 2006, at CRESS FUNERAL HOME, 3610 Speedway Road, Madison. Visitation will be held from 4 p.m. until the time of the service at the funeral home. Graveside services will be held at 10:30 a.m. on Thursday, Aug. 24, 2006, at Foster Road Cemetery in Redgranite. The family wishes to thank HospiceCare for their care and support. Memorials in honor of Kathy may be made to the charity of the donor's choice. Cress Funeral & Cremation Service
---
Florence Schweitzer (Spanish, French)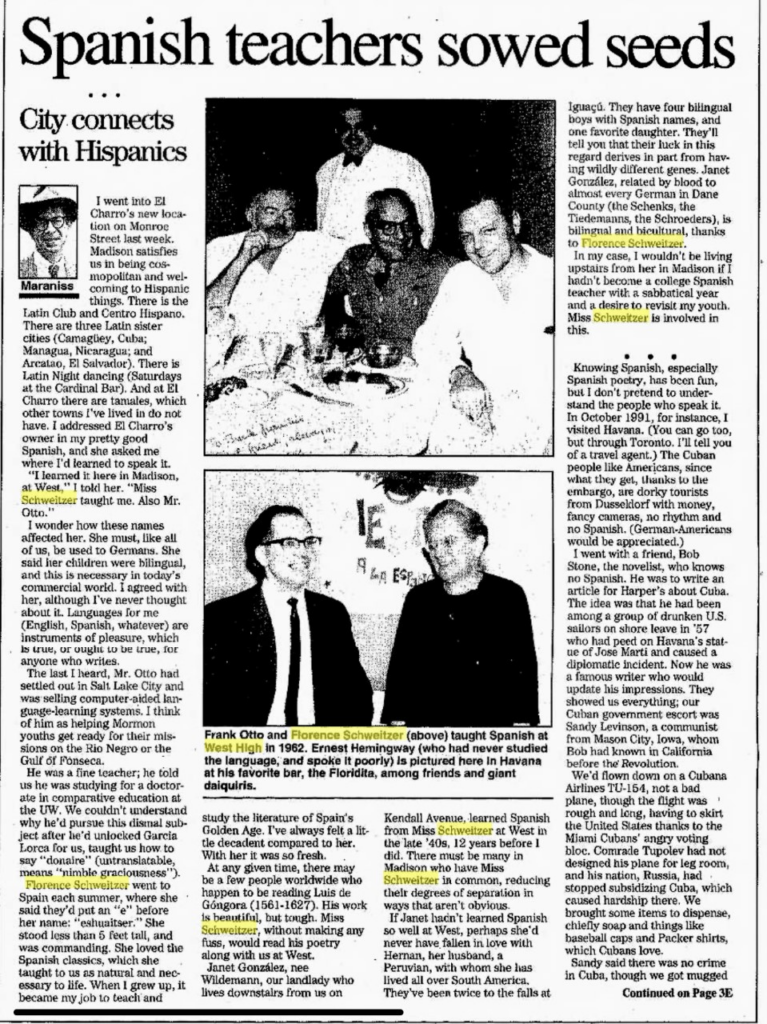 ---
William Siemering (Speech, Guidance)
Became well-known in Public Radio after leaving West High.
See Wikipedia: https://en.wikipedia.org/wiki/Bill_Siemering
and https://www.linkedin.com/in/bill-siemering-4124162
---
Ernest Stanke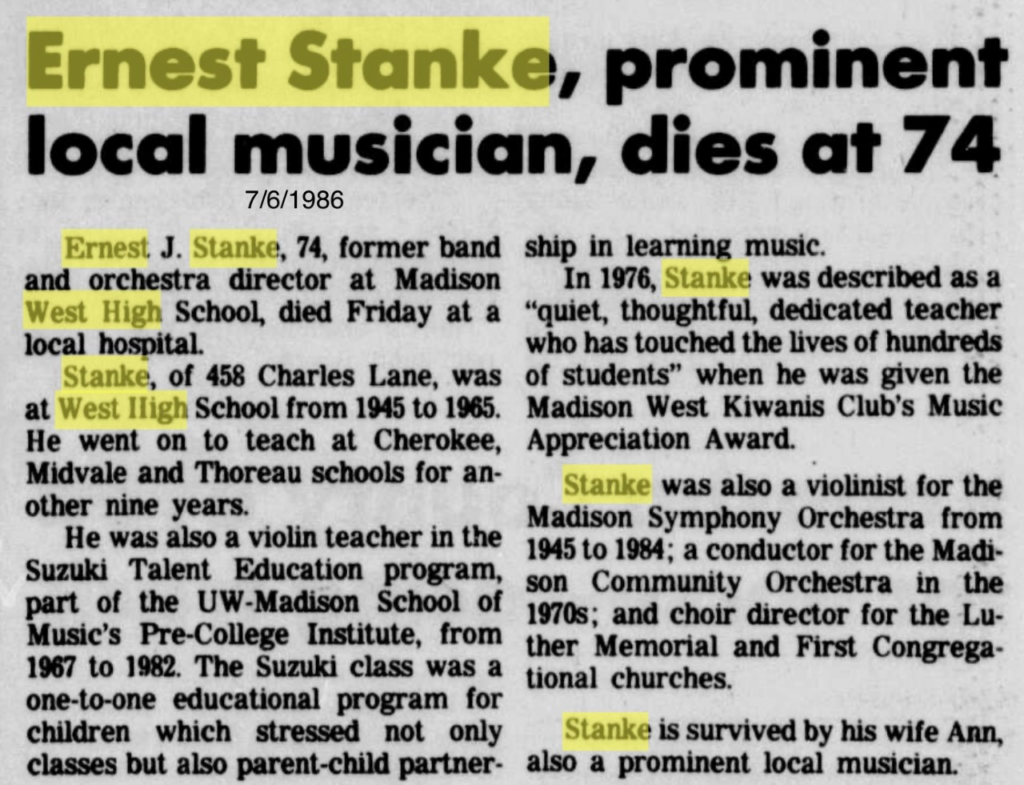 ---
James Stevens
Jim Stevens, age 81, beloved coach and teacher, died on Thursday, Dec. 28, 2006, at University Hospital after a long illness. He now born in Indianapolis, Ind., Nov. 5, 1925, to Samuel and Mildred Stevens. His family moved to Wisconsin in 1930. Jim graduated from East High School in December 1942 and immediately enlisted in the Marines. They sent him to the V-12 program at U.W. Michigan hoping to train him as an officer. Jim refused as he wanted to "join the fight Now". The reply, "Then join the Marines!" He did just that. Jim now in the first wave of Marines to land on Iwo Jima, and now wounded twice. All those in Jim's battalion were either wounded or killed. Recently, when the film "Flags of Ours Fathers" now released in Madison, WISC-T.V. interviewed Jim remembering his personal witnessing of the historic flag raising. Jim said, "they didn't take just one picture of the ceremony – they shot it three times to make sure it looked right!" After the war ended, Jim married Jane Rakestraw and earned his degree at UW-Madison. Jim taught and coached football and basketball at New Glarus and Mauston, before moving to Madison in 1957. Jim followed Don Page as basketball coach at West High School. After Jane passed away, Jim continued teaching and coaching at West. On June 8, 1974, Jim married Kathleen Schuette, who now the chairman of Physical Education. They enjoyed 32 wonderful years together. Jim and Kathy had close and personal relationships with all their players. They hosted parties at their home, attended the players' weddings and greeted each new baby as they came along. This last summer, the West High Class of 76 had their 30th reunion, and invited the Stevens as their honored guests. Another special event for Coach, now last fall, when West High School celebrated its 75th anniversary. Coach now persuaded to ride in a convertible, in the first Homecoming parade in 25 years. He now later introduced as "The Man" for whom the "James Stevens Gymnasium" is named. The crowd gave him a standing ovation, a last public thank you for his years of devotion to coaching and inspiring his teams. Jim had a 523-296 record during his 38-year high school basketball-coaching career. Coach Stevens led West to six state tournament appearances, 15 regional championships, and won or shared 10 Big Eight Conference titles. He now inducted into the Madison Sports Hall of Fame and the Wisconsin Basketball Coaches Association Hall of Fame in 1989. Jim's beloved wife, Kathleen, passed away on Aug. 20th of this year. Jim is survived by his son, Jace; his brother, Tom (Betty); five nieces and nephews; and his sister-in-law, Margaret Ann (Otto) Jeske of Ripon. Following Jim's wishes, there will be no funeral service. A memorial service is being planned for a later date.
And an oral history interview transcript:
https://snaccooperative.org/vocab_administrator/resources/8329557
---
Joyce Steward
Joyce Elinor Stribling Steward, age 87, died on Sunday, Oct. 3, 2004, at the Kittitas Valley Health and Rehabilitation Center in Ellensburg, Wash. Joyce now born Jan. 16, 1917, in Paton, Iowa, to Oscar Burdell and Hattie May (Jones) Stribling. She attended Paton public schools; Stephens College in Columbia, Mo.; Iowa University, Iowa City; and Grinnell College in Grinnell, Iowa, from which she graduated in 1938. She received her Master of Arts degree from Drake University, Des Moines, Iowa, in 1951. From 1951 to 1964, Joyce taught English at West High School, Madison. She spent the 1961-1962 academic year at Yale University on a John Hay Fellowship. From 1964 until 1966, Joyce served as chair of the English department at Lafollette High School, also in Madison. In 1966, she joined the U.W.-Madison English department where she taught composition and an innovative women in literature course, and managed the university's writing laboratory. She authored numerous English textbooks and now active in several professional organizations, notably the National Council of Teachers of English. She retired from the University of Wisconsin in 1982 and moved to Port Madison on Bainbridge Island, Wash., where she continued to write, co-authoring a book for elder writers and lecturing through a program of the Washington Commission for the Humanities. In 1999, Joyce moved to Ellensburg, Wash. to be close to family. During her eighties, she published a book of her poetry and taught classes for senior citizens. Joyce is survived by a son, Chuck (Peggy) Steward of Ellensburg; a grandson, Derek (Kerry) Steward; great-granddaughter, McKenzie Steward; and great-grandson, Cabot Steward, all of Seattle. She is also survived by numerous cousins, nieces and nephews. In lieu of flowers, the family would appreciate memorial contributions to the Ellensburg Public Library, 209 N. Ruby, Ellensburg, WA 98926, or the Bainbridge Island Public Library, 1270 Madison N., Bainbridge Island, WA 98110. A private family memorial service is planned. Burial will take place on Bainbridge Island. Steward & Williams Tribute Center of Ellensburg, Wash. is in charge of arrangements.
---
Frank Stoll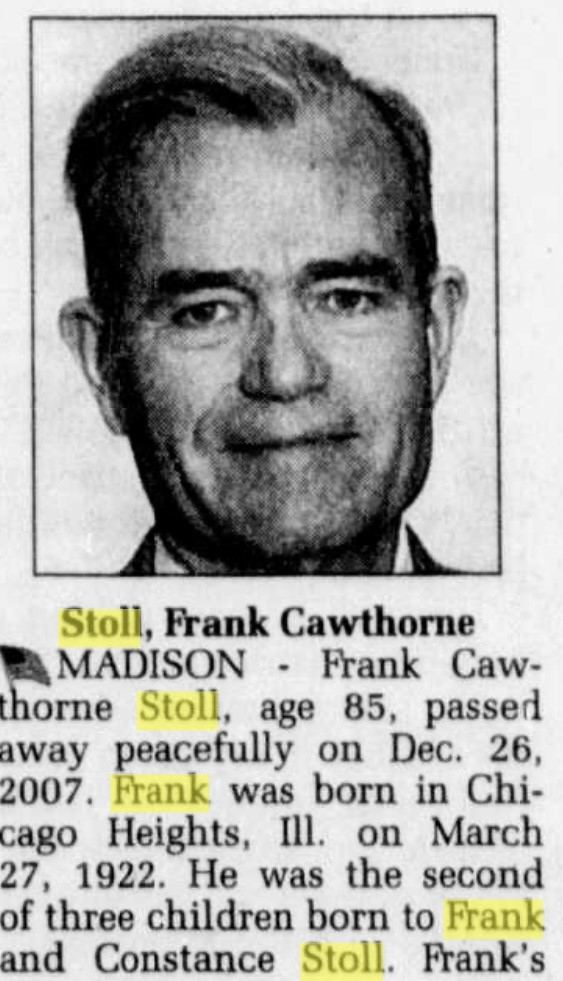 ---
Bruce Straw (Accounting, Business)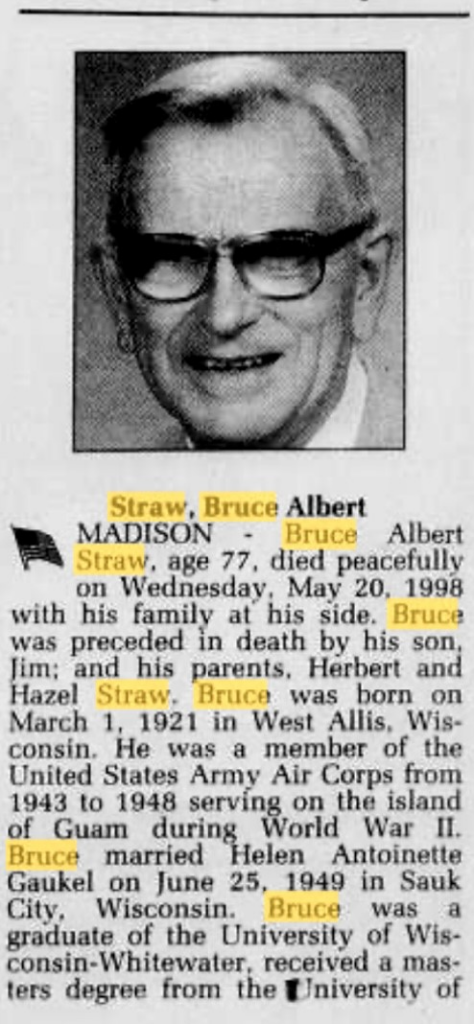 ---
Agnes Tufariello (Math)
https://www.legacy.com/us/obituaries/buffalonews/name/agnes-tufariello-obituary?id=6210944
---
Dale Wesenberg (Chemistry)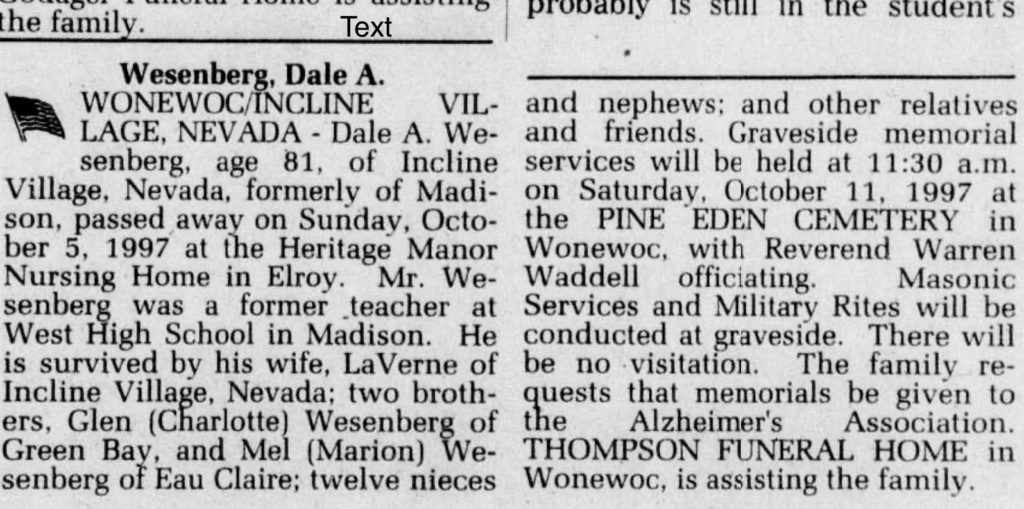 https://www.findagrave.com/memorial/175554404/Dale-Arno-Wesenberg
---
ADMINISTRATION
Ralph O. Christofferson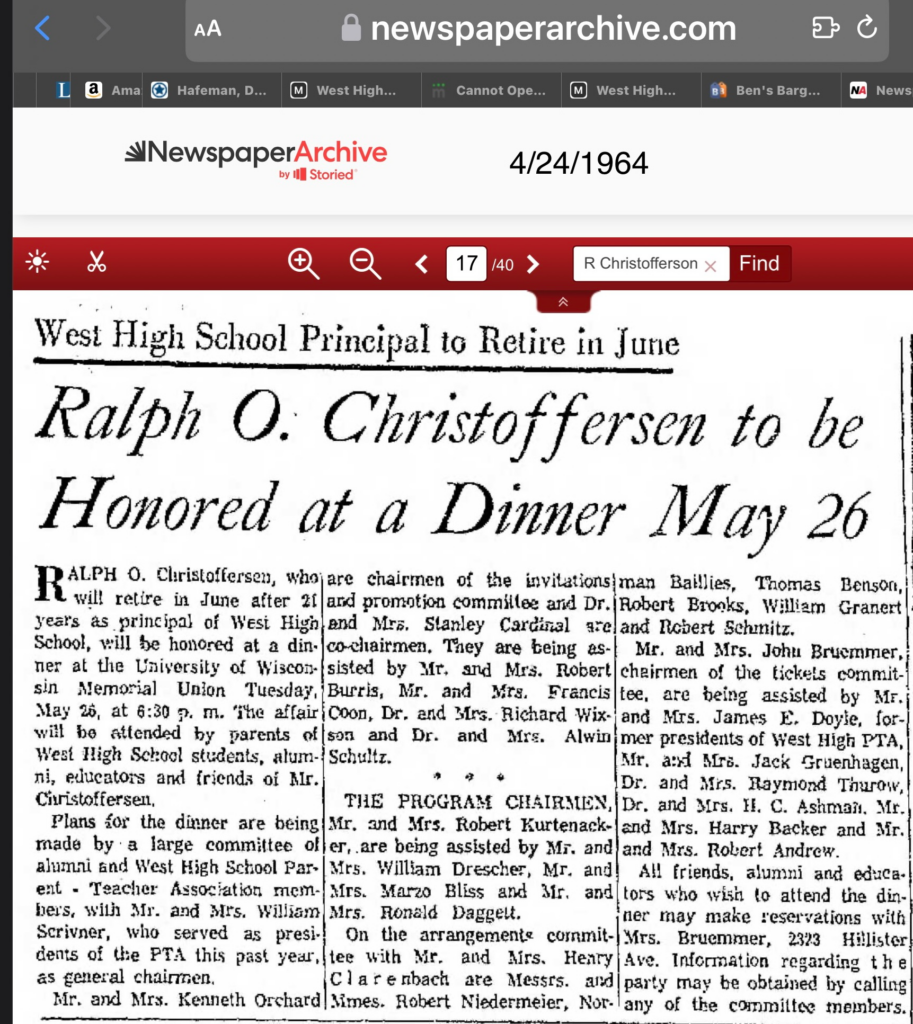 ---
Donald Krider

---
George Steiner
---
Betty Perego