Leslie Allen Bellrichard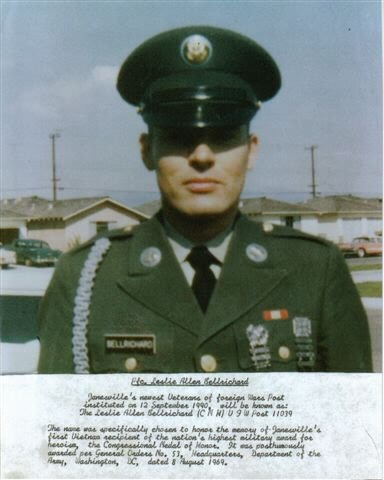 Thoughts from Ed Grob
I was privileged on May 29, 2004 to attend the dedication of the Bellrichard Bridge that spans the Rock River on Willard Avenue in Janesville, WI. While there, I was fortunate enough to meet Leslie's brother, several other family members, and several friends. It was a touching, meaningful ceremony.
Several State, County, and City officials were there, and each made comments about the heroism exemplified by Leslie's actions and sacrifice during the battle known as The Nine Days in May. The 4th Infantry Division was well represented by Association members and their guests. Most impressive was the number of Leslie's relatives in attendance.
I took several photographs:
Medal of Honor
BELLRICHARD, LESLIE ALLEN *
Rank and organization: Private First Class, U.S. Army, Company C, 1st Battalion, 8th Infantry, 4th Infantry Division
Place and date: Kontum Province, Republic of Vietnam, 20 May 1967
Entered service at: Oakland, California
Born: 4 December 1941, Janesville, Wisconsin
Citation

For conspicuous gallantry and intrepidity in action at the risk of his life above and beyond the call of duty. Acting as a fire team leader with Company C, during combat operations Pfc. Bellrichard was with 4 fellow soldiers manning a foxhole on their unit's perimeter when the position came under a massive enemy attack. Following a 30-minute mortar barrage, the enemy launched a strong ground assault. Pfc. Bellrichard rose in face of a group of charging enemy soldiers and threw hand grenades into their midst, eliminating several of the foe and forcing the remainder to withdraw. Failing in their initial attack, the enemy repeated the mortar and rocket bombardment of the friendly perimeter, then once again charged against the defenders in a concerted effort to overrun the position. Pfc. Bellrichard resumed throwing hand grenades at the onrushing attackers. As he was about to hurl a grenade, a mortar round exploded just in front of his position, knocking him into the foxhole and causing him to lose his grip on the already armed grenade. Recovering instantly, Pfc. Bellrichard recognized the threat to the lives of his 4 comrades and threw himself upon the grenade, shielding his companions from the blast that followed. Although severely wounded. Pfc. Bellrichard struggled into an upright position in the foxhole and fired his rifle at the enemy until he succumbed to his wounds. His selfless heroism contributed greatly to the successful defense of the position, and he was directly responsible for saving the lives of several of his comrades. His acts are in keeping with the highest traditions of the military service and reflect great credit upon himself and the U.S. Army.
BELLRICHARD BRIDGE DEDICATION SPEECH May 29, 2004
A stigma will always burden those Americans who served in Vietnam. That stigma is the result of the ill-fated strategy that came from the top, far removed from the troops who actually fought the war on the ground. American troops militarily lost no major battles in Vietnam. American troops performed there as well as their predecessors did in Korea and World War II. Going to Vietnam in 1967 was like going to Korea or World War II to fight for our way of life.
American troops in Vietnam fought against the Stalinism of Ho Chi Minh and his regime whose so-called 'nationalism' allowed them to murder over a million of their own people. Though the war effort failed to preserve an anticommunist and American-friendly South Vietnamese government, the sacrifices of American troops did contribute toward the eventual defeat of the world-wide threat of Soviet communism. The Soviet Union had no ground troops in Vietnam; but it did have advisors in the north and it did supply the communists with massive amounts of munitions used to kill American troops. Consequently, it spent billions of dollars aiding the communist North Vietnamese regime.
This strain on the Soviet economy stunted still virulent Stalinist expansionism and contributed to the eventual bankruptcy of the Soviet Union and therefore its ultimate dissolution. With this, the Berlin Wall crumbled and the Iron Curtain fell. Sunday school teacher, posthumous Medal of Honor recipient, and Janesville native son Leslie Bellrichard with his courageous actions contributed as much as any one man could to this positive development in human history.
Heraclitus said a man's character is his fate. Leslie Allen Bellrichard's character and his fate were commended to us and eternity on May 20, 1967 from the Central Highlands of Vietnam while he served with the 4th Infantry Division during the battle known as the Nine Days In May.
Within the first two years of Leslie's life his father and brother were both killed in separate accidents. Consequently family problems caused Leslie to be fostered out more than thirty times in his young life.
He had a short life of long hardship, but in his final moments, while in the midst of a scenario that sadly shouts we are forever doomed to be lower than the angels, PFC Bellrichard showed us how far we can rise above our more basic human solutions by committing an act so pure, so profound, and so transcendent of everyday human behavior. When a similar act was committed by another man 2000 years ago, that man was elevated to the status of a god and so one of the world's major religions was born.
Many who experience a young life such as Leslie's develop a strong sense of entitlement. And, we live at a time now when there are no self-generated problems. The strict criteria for the Medal of Honor allows that PFC Bellrichard could have made his way to safety without being subject to criticism. But he did not; he said by his action, 'It is my grenade and I will absorb the blast for you my brothers.' In his final moments, rather than feeling entitled, PFC Bellrichard was able to say that he loved us above all else.
The Bible's 'no greater love" was the love expressed by PFC Bellrichard: 'Greater love hath no man than this, that a man lay down his life for his friends.'
President Lincoln, at Gettysburg, described such acts as 'that last full measure of devotion'.
Respect for the actions required to earn the Medal of Honor was expressed by President Truman when he said that he would rather have the Medal of Honor than the presidency.
We are here now in Leslie Bellrichard's hometown where he has lain for the last 37 years. It is here that we walk up and down the same streets that he did, go in and out of the same buildings that he did, and breathe the same air that he did. We are the last living link to Leslie Bellrichard. Now it is time to consecrate our connection to him and so acknowledge how Leslie Bellrichard has honored the City of Janesville and the County of Rock.
In poetry and literature the bridge is the eternal metaphor. So, let the Bellrichard Bridge not only literally unite the north and the south and the east and the west as it is so placed over this point of the Rock River. But, let our act of gratitude point to the Bellrichard Bridge that takes us from that side of the human experience that deceives us into thinking that our disputes are greater than we are, to that area of the human soul, that shows us or reminds us that when all is said and done all we really have is each other.
With the dedication of the Bellrichard Bridge let us finally acknowledge the transcendence of Leslie Bellrichard's life and the magnitude of what he did.
Copyright 2004 by Robert Thomas Baker
All Rights Reserved
---