If your bio is not here (and you'd like it to be), send it to our webmaster.
---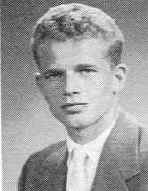 Albert (Ike) Ickes
Email: Ike_Ickes@hotmail.com
Hi! Just happened to be flipping through the computer and to my surprise I HAPPENED on this site.

Well there isn't much to tell. I joined the Air Force in 1961 and just happened to end up stationed in Glasgow, Mt. From there I basically went all over the world. I met my wife while stationed there – we married and had 6 wonderful children. We had two sets of twins (nine years apart) and 2 singles. We lived for several years in'Seattle, Wa. Just recently we (my wife and I) moved back from spending a year in Spokane, Wa. I have worked for Wal-Mart stores for the last several years and find it very enjoyable.'
---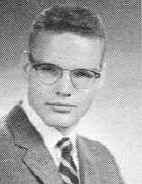 Roger Ingersoll
Email: rningersoll@comcast.net

Another photo
Last minute, as usual. Some things never change: I have fond (sort of) memories of almost breaking my neck while collecting insects from around my porch light at 2 a.m. for a project due the next day in Mr. Antonie's Advanced Bio class.

My life so far: Stumbled through the U.W., finally getting out with a degree in Education in January, 1967. Taught and coached in South Wayne (near Monroe) and Stevens Point, then went to the University of Arizona for a Masters (Counseling & Guidance) in 1970, and never left. Two years as a consultant in career guidance, then twenty-four years with Tucson Unified School District, first as counselor in an alternative night school program, then as counselor and department head at the District's "flagship," Tucson High Magnet School. I found the work challenging, rewarding, and incredibly draining. Also found dealing with incompetent administrators and meddling school board members incredibly frustrating, so I retired as soon as I could (May, 1997), with at least a little sanity left.

Within a year of retiring, I ruptured an achilles tendon and broke my hand, but it has been uphill since. I've kept busy with a variety of volunteer commitments–president of our homeowners association, board member of a child abuse prevention program, scholarship committee chair for another non-profit–and traveling as much as possible, mostly to hike, scuba dive or ski.

The best thing I've done in the past forty, however, is to marry Nancy in 1978. She has kept me healthy and out of trouble, besides being my best friend. We have no children, only our current CS (child substitute), a fourteen-year-old Springer Spaniel. We both love Tucson and have no desire to live anywhere else.

Suppose I should end with something profound. I feel like I've been incredibly fortunate throughout my life, and it started with growing up in a great place like Madison and attending an institution like West at a time when our education system still worked–I'm not so sure it does now.

Thank you, Bob Buran, for this web site, it is a treat. By coincidence, we will be in Wisconsin the weekend of the reunion, but we have family commitments up north and won't be able to attend. I hope you all have a great time.
'
---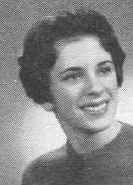 (Susan) Alexandra Jackson-Engman
Email: alexengman@comcast.net
After reading all your bios I'm feeling a little overwhelmed – seems you've all had such stable lives and have accomplished so much! Well, let's see – what can I contribute…'

After graduating from West, I returned to Seldovia, Alaska for the summer. That fall my family moved to Sonoma, California where I began college. My goal when I entered college wasn't so much to get a a degree but to get that highly desirable "Mrs." in front of my name! And I did that – I married a very nice fellow in '64 with whom I had two beautiful sons. Our marriage ended in '72 at which time I moved back to Alaska. I spent the next 15 years having an enormous amount of fun working in advertising and public relations while continuing my college education, finally graduating with a BS in psychology in 83.'

In '88 moved back to northern CA – Santa Rosa and went back to school, this time to earn a MA in Organization Development. Moved to San Francisco in '94 and worked for several Fortune 100 companies as an "internal OD consultant" and have just recently started my own consulting practice. Have also, once again, gone back to school, this time for a Ph.D. in Human and Organization Development. Hope to complete that in 2003 – yikes – that's a long time to spend in school! A friend recently asked me if I thought I'd graduate before I retired! I'll probably work well into my 80's because I've "frittered away" my youth! Ah, well, that's the way it goes!

My two sons, Eric – 35 and Dale – 33, are the light of my life. They both live fairly close – Eric in Sacramento and Dale in San Rafael. Neither have married so no grandchildren yet but I have issued stern instructions that I do expect some in the very near future! I've never re-married (at least so far)- have come close several times but can't seem to say "I Do"!

Looking forward to seeing everyone in August. Oh and these days, I've been using my middle name Alexandra or Alex (SOOOOO many women where I've worked named Susan!) so if I'm slow on the uptake when I'm called "Sue", you'll know why!

Alex (aka Sue) Jackson-Engman
---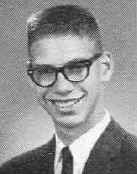 Stan Jackson
Email: sbjmarket@aol.com
Occupation: Dir. Of Tech Ser.

Spouse: Beth Children: David (33) Angela (30)

Grandchildren: Joseph (6) Peter (1)
---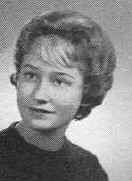 Kristie Johnson-Baile
Email: jbaile1@aol.com
37 years ago I met Joe on a blind date (thank you Kari Darbo). Kari's last date with Joe's roommate was our first. We were married at the Truax Field Chapel. A few years later the minister was divorced, the chapel burned down, and Truax closed. One might say that the odds were stacked against us. We proved them wrong.

We moved east after our Air Force time and lived in the Philadelphia/South Jersey area until 1980. Our three children (Tracy-35, Tanya-30, Joseph-25) were born there.

We were transferred to South Florida and have lived in Coral Springs for 21 years. I have been working for a medical doctor since the children were young. Joe recently retired from the Miami Herald. We have four grandchildren.

Last Christmas we had a visit from Kari Darbo, and I met with the Raddocks, Smiths, and Schultzes when they vacationed in Fort Lauderdale. I enjoyed catching up on the news and am looking forward to the reunion.
---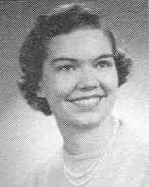 Chris(tine) Johnson-Dicke
Email: cricket@itis.com
I graduated from the UW with a BA in English in 1965. Bob (West class of '60) and I were married in 1966. He had spent the previous four years in the Army, so he went back to the UW, graduated in electrical engineering in 1970 and went to work for Wisconsin Power and Light. That took us to Fond du Lac and Sheboygan before returning to the Madison area, where we settled near Oregon in 1980 and have been ever since. Along the way, we added four daughters and one son to the family. The kids are all on their own now, the two oldest girls are married and our first grandchild is due just days after the reunion. All of them except our youngest daughter live in the Madison area, and we enjoy having them close by. Karen is the only one that got away; she works for 3M and lives in St. Paul, so that gives us a good excuse to travel to the Twin Cities often. Bob retired from WPL three years ago and is now working more hours than ever as a consultant. He travels a lot and I've just retired from my job as a receptionist at an endodontists' office (where they do root canals) so I can travel with him (and baby-sit for our grandbaby when he arrives).
---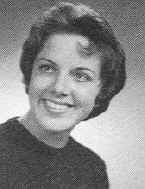 Lois Joyce Montague
I graduated from St. Mary's, in Madison, & worked part-time as an x-ray technician for almost 20 years. I married Kent in 1964. We adopted Scott in 1971 & Kevin in 1973. Both boys have become great young men. Scott works at Lands' End in Dodgeville & Kevin is a social worker for Rock County. Scott & his wife, Laurie, made us grandparents to Grace, who is now 2 & the best thing that ever happened to us. Kent was a heating & electrical contractor for 30 years, while I was bookkeeper, secretary & "gopher". We retired last year & spend our time between our home in Ridgeway, Wi. & our mountain retreat in Breckenridge, Colorado. It's been an adventure!

Nancy, Sandy, Linda, Elaine, Bev & I have been meeting for lunch for years. We finally found Mona, thanks to this web site—What a reunion we had!!

Looking forward to seeing you all at the reunion!