Lois Joyce Montague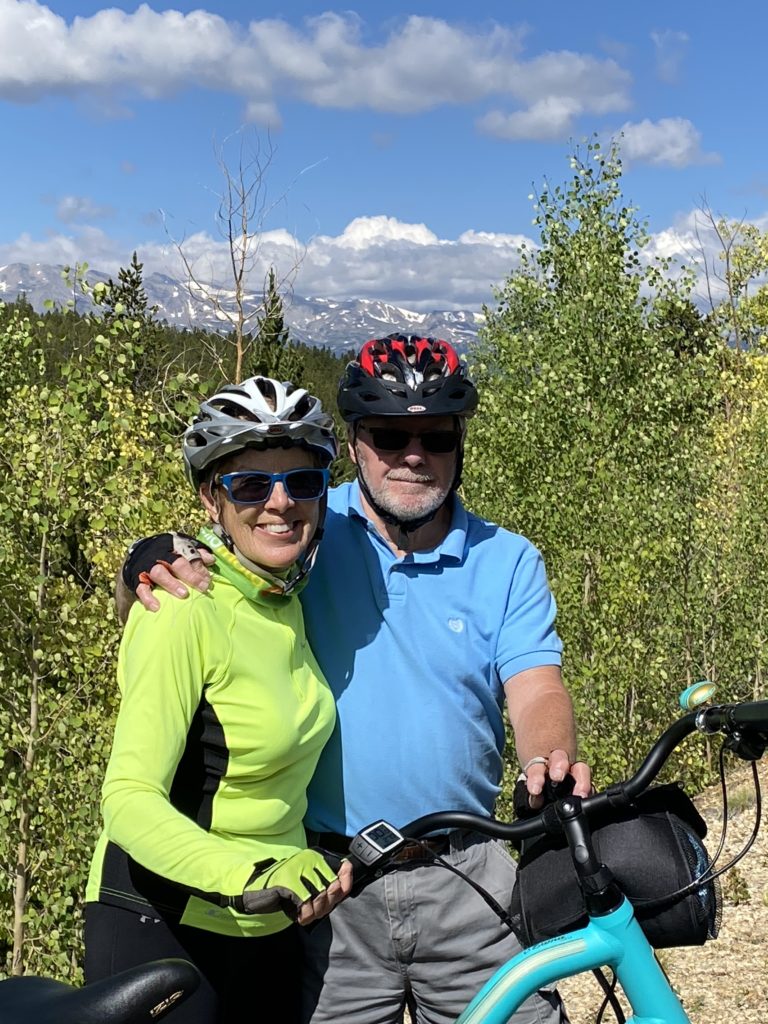 After graduating, I went to St. Mary's School of Radiologic Technology. I worked as an X-ray technician, married Kent Montague (still together after 56 years), adopted two boys, Scott and Kevin, who turned out to be amazing men. We have two grandchildren, Grace, a pre-vet junior at UWRF, and Austin, a senior at Dodgeville High School. Both of them are nice young people, and they seem to really like us.
Kent and I retired, spending our time between Wisconsin and Colorado. We love to ski, bike, hike, 4 wheel, and work in our woods, and my gardens. Not being able to socialize is the worst result of this virus. We miss our family and friends. We have been very careful because of this age thing. Hoping for a vaccine soon. I am still very close to Sandy Colvin, Linda Billington, Elaine Jacobson, Mona Stein, and Alex (Sue) Jackson. We lost Nancy Raymond to metastatic breast cancer this spring. She will be missed forever.
Raised with five brothers, by hard working parents, on the west side of Madison, met lifelong friends, had a wonderful education, married a guy I still have a good time with, and enjoy a fun family. Life is Good!
---
Doug McMurry
During my high school and college years, I lived with my family out in the country, and so didn't connect real close to the social life of either school. The teacher who influenced me most was Mrs. Riva, my high school English teacher–a very significant person for me, because I have since become a writer. She was the first person to see that in me, and I will forever be grateful.
Sensing a calling of some sort from God, I moved in 1965 to San Francisco to attend seminary; then I received a fellowship for an additional year of study in Scotland in 1969. The following year I started as a Presbyterian pastor in Corvallis, Oregon, home of Oregon State University. In 1972, God touched my life deeply in a way that permanently drew me to Himself in the power of the Holy Spirit. I visited my parents in Madison that year and told them of my experience with the Holy Spirit. The upshot of it was that my mom was dramatically healed of a brain hemmorage at St. Mary's hospital, and was simultaneously healed of a back disability and an ulcer, all in a single day, through prayer. This sort of thing was dramatically changing my life, and improved our family interaction, to say the least. It gives an idea of the powerful intervention of God during those years.
During all this time, I married Carla, who has walked with me faithfully all these 53 years. Carla and I had four kids, including an adopted Korean, who has grown up from a nine-pound orphan baby to, today, a 49-year-old gifted public school teacher. Our son is a history professor in Lima, Ohio; two daughters married with kids, one in Richmond, Virginia, the other in Charleston, SC. The three biological children all have children, so we are now a family of 19.
My writings are mostly on Christian themes. My wife and I run a fledgling prayer center, The Clearing Where Eagles Fly, in Charles City, Virginia, the second oldest county in the nation. We have a special calling to pray for Native tribes, and God has put us on the very spot where white people (in 1614) first made a treaty with tribal people on this continent. (Charles City county is the second oldest county in the nation.)
In 2004, we were released from pastoral work; mostly today, we spend a lot of time in prayer. We also run a small guest house for people who want to get away and have some time with God. Our website is: TheClearing.us. You can find out more about us there.
---