The note below is about the Collaborative which was initiative on March 16,2020 at the beginning of the covid-19 pandemic to help meet the food needs of the kids on the West side of Madison. Of the 12 schools involved It includes Thoreau (at the site of Nakoma School), Midvale, Shorewood, Randall, Cherokee and West.
Alexa Paliwal Wautier is the president of the Thoreau PTO. An East High graduate with two kids at Thoreau and lives in Nakoma.
There were many other individuals and organizations involved as the Collaborative formed, the primary team included social workers Laura Glaub (Thoreau Elementary), Abby Ray (Cherokee Heights Middle School) and Shaya Schreiber (Midvale Elementary) as well as Shelby Connell, program coordinator of the Food For Thought Initiative as part of the River Food Pantry and Brad Bodden, a Thoreau adopt-a-school partner.
Just as a P.S. Alexa sent this facebook SHOUT-OUT on May 3, 2020:
Within our Thoreau community, we have been equally fortunate. We are excited to announce that the PTO was the beneficiary of an anonymous $10,000 donation given in honor of Walter W. Engelke, principal for 41 years at Nakoma School (replaced by Thoreau Elementary in the early 1970's). Some of you may know that Nakoma is a Chippewa word meaning "I do as I promise." Throughout his career in education, Mr. Engelke never missed an opportunity to remind his students of those words and the responsibility we have to each other. With this donation and all the support we are receiving from our community, we continue the legacy of Mr. Engelke. We promise to be kind. We promise to do good. We promise to help in a time of need. We do as we promise.
If you are interested in contributing to this project checks can be sent to Alexa at 822 Miami Pass, Madison, WI 53711 Make it out to: Thoreau PTO
Below are Alexa's Words in a recent email update – June 5, 2020                                                             
"I wanted to check in to give you a few updates on the Collaborative (the full name is the Madison West High Area Collaborative … I had no part in coming up with this name!). I also wanted to give you a quick look into the future of the Collaborative over the summer months. (Warning – this is a rather lengthy email. I should have reached out well before now, but life and our program are constantly evolving and there's just so much to share.)
Food Relief:
As an overview, here are a few numbers to give you a little perspective on the magnitude of what has been created in a such a short amount of time:
12 schools in the Madison West High attendance area have joined the Collaborative
20+ staff members from every school work directly with families to identify needs and make sure there is enough food and support from our Collaborative for each family each week (this includes social workers, psychologists, teachers, principals, etc.)
30+ pounds of food delivered to each family each week
40 volunteers make deliveries every Wednesday (more than 150 different individuals have signed up through United Way since the Collaborative began)
150+ individuals and families have donated to the Thoreau PTO and many more are contributing to the PTOs of the participating schools
380 families (on average) receive deliveries each week!!!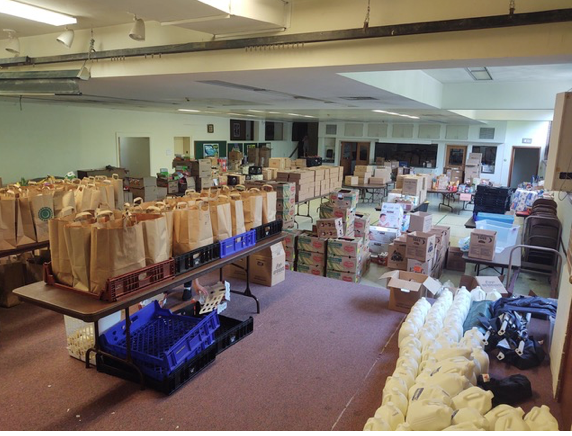 This is the basement of Westminster Presbyterian Church where every Tuesday morning the many volunteers start packing the bags of produce. Imagine trying to prepare 375-380 groups of food deliveries!
Second Harvest is providing the boxed stables (10# pantry box and a 10# box of fresh vegetables. ) At one point the estimated expenses of supplies that the Collaborative added to the staples. Produce (milk, eggs, potatoes & onions) — $2,200 per week Apples — $330 per week Local Produce — $650 per week Toilet Paper — $3,600 per month (5 rolls/family delivered 2x/month)
Diapers and Wipes — $2000 per month (delivered 2x/month)
It's incredible to realize that we have been delivering food and other necessities to west side families each week for the last 12 weeks. There have been a lot of ups and downs and weeks where we weren't certain if we would be able to provide enough for the increasing numbers of families in need, but the ever-growing network of Thoreau supporters has provided such a solid foundation for the Collaborative. As of today, the Thoreau PTO has raised over $41,000. In addition to our own contributions, each PTO/PFO from the participating schools is finding ways to help the Collaborative whether it be through outright monetary donations or taking responsibility for the purchase of specific items (diapers and wipes, toilet paper, cleaning supplies, etc.).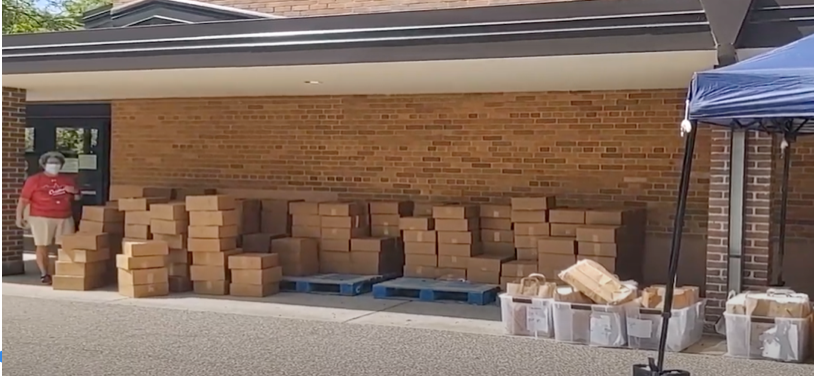 Tuesday is the day to start collecting all the food.  Second Harvest delivers pallets of boxes of food.  Brad and others work to gather produce and take it to the church.  If you look at the tons of food gathered you have to be impressed by how hard everyone is working.
All of that support means that we will be able to continue our deliveries throughout the summer months. With the economy slowly re-opening, some people returning to work and an increase in access to a few additional resources over the summer, the Collaborative will be moving to bi-weekly deliveries over the summer. We will be provide the same items and believe we can still support the needs of our families on a reduced delivery schedule.
Second Harvest has phased into a new system of providing 360, 10 pound pantry boxes for each participating family (which are actually better suited to our families' needs and allows us to provide a box to each family), a gallon of milk for each family and also continues to allow us to pick up extra produce, snacks and other items from their cooler and pantries. Additionally, beginning last week and running through the month of June, we will be receiving 380, 10 pound, produce boxes from Second Harvest. The produce boxes are filled with a beautiful assortment of fresh local produce. Last week it was beets, leafy greens, cherry tomatoes, onions and potatoes. This week we were lucky enough to get asparagus, arugula, bok choy, leeks and potatoes. We are so lucky to have Second Harvest supporting the Collaborative.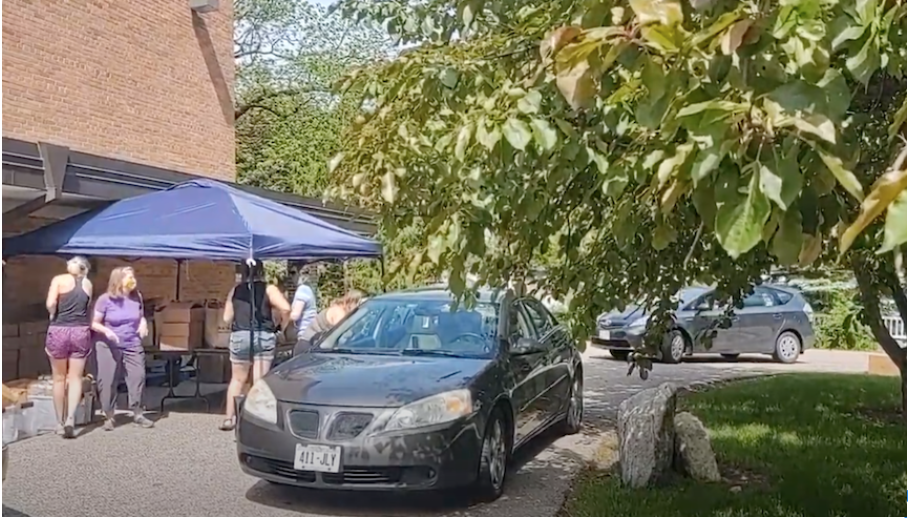 Every week, fingers are crossed that they will have enough food to fill all the needs.  Wednesday morning about 10:00 the volunteers – teachers, social workers, and many  volunteers provided by The United Way (and by the way you must be under 60 to volunteer) start to arrive.  Each driver is given a group of 8-10 addresses to deliver the food to.  The trick lately was how to keep the cartons – each holding 4 gallons of milk—cool as summer begins.  They did find a way!
Rent/Assistance:
In addition to the work the Collaborative is doing to provide food and other daily essentials, we are working hard to make sure families are able to remain in their homes. In April, the Collaborative was awarded a $25,000 grant from United Way to be used predominantly for housing, household items, and flex funds. The Midvale-Lincoln PTO, together with school staff, applied for the grant and is the fiscal agent for disbursing funds for families in need.
Shaya, a social worker from Midvale Elementary School, recently shared a heartwarming story about a family struggling to avoid eviction. On Monday, Shaya was contacted by a family in need. Both parents lost their jobs in March and needed $3,900 to cover back rent or they would be evicted. The family had tried reaching out to several organizations, but with such a large outstanding balance, they couldn't find anyone willing to help because each organization only had a small amount to offer compared to what was owed. Many organizations can only offer $400 to $600 of support. However, in only two days, 4 school social workers and 1 school psychologist were able to work with 7 organizations/PTOs to gather $3,000 and communicate with the landlord that the family will be receiving more funds to meet their rent needs in another month. The landlord was willing to work with the family because of all of the collaboration and support the family was receiving. Each organization felt confident that the money they were donating would actually prevent eviction and would help the family catch up and remain in good standing. We do not think this would not have been possible if the Collaborative hadn't had the support and resources available to contribute from our rent assistance funds and serve as the catalyst for others organizations to jump on board. Shaya was blown away at all of the teamwork that went into supporting the family and the willingness of others to contribute.
The United Way grant funds and our team of tireless staff have actually encouraged other organizations to work with the Collaborative to meet families' rent needs. The whole truly is greater than the sum of its parts.
Volunteers:
The backbone of the Collaborative is its volunteers. There is a core group that shows up every week to load, transport and unload deliveries, pack bags, deliver food to families, break down an overabundance of cardboard boxes and clean up the church so that everything is ready for another week.
In order to get much of the food from Second Harvest, we need to coordinate pickup and delivery of the items to Westminster Church each week. At 8:30 AM every Wednesday, a group of 5 to 7 United Way volunteers, headed up by our very own Brad Bodden, rev up their minivans and wagons and are able to load, transport and unload over 3,500 pounds of milk, 380 of the 10 pound produce boxes and a whole lot of fresh fruit, snacks and other goodies from Second Harvest's pantry and coolers. Our families are so appreciative of the variety of fresh food available to them each week. Without our volunteers, none of this would be possible.
Special Fundraising Note:
I wanted to highlight an impromptu fundraiser last weekend led by a Thoreau parent. Kathy, a woman of many talents, moonlights as a hairdresser. After I had reached out with a request seeking some long overdue, socially distanced, drive-way haircuts for my two sons, Kathy decided she could fashion this into a philanthropic endeavor. Kathy reached out to a few clients who might be interested in getting a haircut for charity and the response was overwhelmingly positive. She spent most of the day this past Sunday biking around providing free haircuts. Word got around and an anonymous donor even agreed to match each donation: $2 for every $1 donated. At the end of the day, Kathy was able to raise $1,770 for the Collaborative.
It was a beautiful gesture of support and selflessness from our community. We shared Kathy's contribution with our school families and hope her good deed inspires others to find creative ways to help the Collaborative or any organization that is important to them. We are doing our best to keep up the momentum and spread love and kindness as much as possible!
Looking ahead …
As we look to the future of the Collaborative, we are so proud that we will be able to continue feeding families over the summer. We appreciate that Westminster Church is continuing to allow us use of their space. We appreciate that our volunteers keep coming back. We appreciate our good fortune in having such a generous community that continues to financially support the Collaborative. We appreciate everything that allows this program to thrive.
Thank you (mostly for reading my long email) and enjoy the beautiful weekend weather!"
Alexa
alexa Paliwal Wautier anpaliwal@hotmail.com